Sponsored by TBR: Tailored Book Recommendations
TBR is Book Riot's new subscription service offering Tailored Book Recommendations for readers of all stripes. Been dreaming of a "stitchfix for books?" Now it's here! Tell TBR about your reading preferences and what you're looking for, and sit back while your Bibliologist handpicks recommendations just for you. TBR offers plans to receive hardcover books in the mail or recommendations by email, so there's an option for every budget. Sign up here.
Hey YA readers! This is the year of the YA author memoir.
It's been awesome seeing so many authors opening up in honest, vulnerable, and relatable ways with their teen audiences this year. I've written about biographies here earlier this year, but I haven't dipped into the growth of the YA author memoir. Let's take a peek at the three (!) YA author memoirs that have and will hit shelves this year.
Brave Face by Shaun David Hutchinson
This was a powerful, necessary memoir that'll resonate deeply with readers of all kinds, whether or not they're familiar with Hutchinson's fiction. A memoir that delves into growing up with depression and being gay in a culture that doesn't embrace or understand either, Hutchinson doesn't shy away from talking about the challenges he experienced — and his own challenging attitude toward the world — growing up. What's especially powerful is that this is about accepting things aren't always going to be okay, but that it's okay. Being brave isn't a requirement of being a person, and even if things aren't feeling good now, they do improve. This'll be a reassuring and relatable read for so many.
Grimes is a long-time YA and middle grade author, and her memoir in verse will publish in October. I haven't had a chance to read this one yet, but it's gotten blurbs from the likes of Laurie Halse Anderson and Jason Reynolds, and it's promised to be a compelling book about Grimes's own challenging childhood and how she became the writer she is today.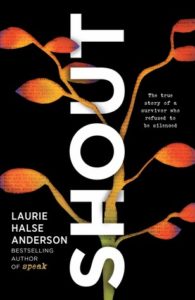 Shout by Laurie Halse Anderson
I read this book at the end of last year and I'm still thinking about what a powerful, necessary memoir this is — and it's one that's been bedecked in numerous starred reviews and, I suspect, will see much-deserved awards come the end of 2019. This is Laurie's story about being a survivor, about being a woman, about being an advocate who is passionate about young people, about intellectual freedom, and about being the best people we can all possibly be. It's angry and it's hopeful. It's sad and it's powerful. It's real and raw. The verse is masterful.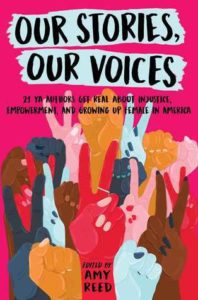 Although it's not a memoir, another book that features the voices of great YA sharing their own stories is an anthology. Amy Reed's Our Stories, Our Voices: 21 YA Authors Get Real About Injustice, Empowerment, and Growing Up Female in America. This gem of a book got a little lost last year, but it's one worth picking up if you haven't already — it's personal and raw about growing up and all of the experiences these diverse authors experienced as young people in America.
---
Thanks for hanging out, and we'll see you again later this week!
— Kelly Jensen, @veronikellymars on Instagram and editor of (Don't) Call Me Crazy and Here We Are.