Happy Monday, folks! I have been living for these Marvel announcements and cosplay photos, but I know some people aren't as obsessed with basically every outlet of popular geek culture like I am. (Okay, maybe not every outlet; I didn't know who Gwendoline Christie was until she donned the Phasma mask.) But enough of that, what about books, yeah?
---
Sponsored by Kensington Books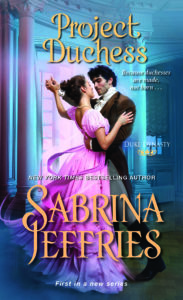 Because duchesses are made, not born… From New York Times bestselling author Sabrina Jeffries, one of the biggest names in historical romance, comes the first in a sparkling new series filled with wit and adventure about the ducal sons of an oft-widowed mother, who blaze through society in their quest for the truth about their fathers…and in the process find that love just might conquer all…
---
News and Useful Links
I don't usually share "the tea" as it were but there are a lot of people who are curious about the very prolific author duo Alexa Riley getting a deal with Entangled after their content was taken down from Amazon outlets recently. I don't know all of the details, but I do know there have been conversations for the past year or so around the ways they have produced as much content as they have, and there was that thing with the plagiarism-adjacent behavior. I'll wait for more as it comes.
One of the big things that happened last week (if you were curious about my comment last week about Mercury Retrograde) was a restructuring at Harlequin. The company has been split into two business groups, and two well-renowned editors were fired. One of them was Angela James, the Carina Press editorial director who made amazing strides with the digital imprint in the past few years. The other was Joanne Grant, editorial director of series—and if you read Harlequin, you know there are a lot of those. None of us are really sure what's happening there, but I do wonder what editorial experience this Brent Lewis guy has.
In other sad news of the week, Less Than Three Press is closing. They have produced some of the most delightful queer books over the past few years, and I'm sad to see them go.
I had honestly forgotten that The Hating Game had been optioned, let alone remember the lead casting announcement, but this supporting news is worth it.
There is a new romance podcast coming out that I am…very curious about. I don't listen to many, but I can't help wonder how this one will go.
I'm sure you've seen it by now, but if not, check out this precious cover for The Worst Best Man by Mia Sosa, which is out in February!
Have you read this profile of Helen Hoang?
Any historians out there? This might be a fun venture.
Deals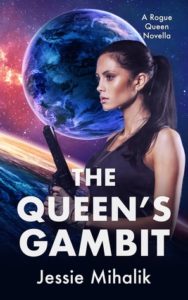 Jessie Mihalik's Polaris Rising was a delightful space opera romp across the galaxy, and now we have to wait months for the next one, Aurora Blazing, to come out. But if you're looking for more of her badass women and space opera-y goodness, check out The Queen's Gambit, which is 2.99 right now. The second in the series, The Queen's Advantage, has been out for a couple of weeks and is also 2.99. Time for more space adventures!
I know I just talked about Trashed by Mia Hopkins last week but did I mention that it was 2.99? Like how can you resist a beautifully crafted, super sexy, wildly emotion-driven book like that when you know it's only 2.99? (I know, I know. I'm sorry.)
Recs!
I've been enjoying the concept of reading On Theme, and I've decided I'm going to try it out more purposefully in the coming months. Today's theme is…
We Live Together And It's Complicated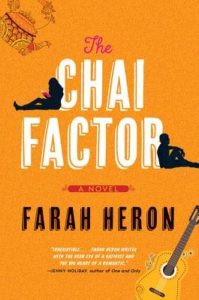 The Chai Factor
Farah Heron
I had been hearing a lot about this book, but hadn't been able to hit the button when it came to the 13.99 Kindle price—while it released in Canada a while back, it didn't come out in print until this month. And I'll always lean in the direction of print when it comes to trade paperback sized books, even if the ebook isn't in the double digits.
The Chai Factor is a contemporary romance featuring a woman who just wants to finish her Master's paper in peace. Since it's not working out at the dorms, she decides to hop on the train for an early move-in to her Toronto apartment—which shouldn't be a problem because it's the basement apartment in her grandmother's house.
Unfortunately, her grandmother has rented out the other bedrooms in the apartment…to a barbershop quartet. One of the four is a family friend, and they need somewhere to rehearse for a big competition. Since no one was going to be there, her Nanima had expected it to be fine. Too bad there's the whole deal where Amira and another member of the quartet had a less-than-exciting encounter on the train in, and she doesn't like him at all.
He's very attractive, though.
So yeah, there's that. There's also a bit of a fake relationship (with a different character) that could have been a little better built out but I'm not picky and the rest was fantastic. I will include a content warning for sexual harrassment, Islamophobia, racism, homophobia, and misogyny. It's a romance-with-a-message and *some* people weren't happy being "smacked in the face" with it. (They can stay mad, though.)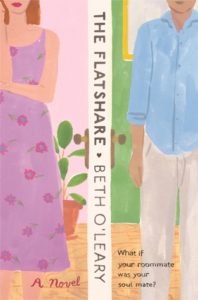 The Flatshare
Beth O'Leary
This is a very different kind of story. Tiffy is in a bind and needs a place to stay, and Leon has an unconventional opportunity: he works nights and needs some extra cash, so he's looking for a flatmate who would get The One Bed on nights and weekends. Tiffy can move in immediately, but ends up meeting Leon's girlfriend, Kay, instead of Leon himself. The two begin their roommateship easily enough, but begin to leave notes for each other. Reminders and offers of food become more detailed conversation pieces, until the pair run into each other by accident in the bathroom. Things get a touch awkward, but business continues as usual with the notes and the things. It's lovely to watch the two open up to each other and learn to trust one another.
This one, unfortunately, also requires a content warning. Tiffy is dealing with a gaslighting ex-boyfriend with stalker tendencies, and while no one gets physically hurt, there is some violence. Leon is also Not White (though we don't get much about that, sadly) and his brother is dealing with some legal issues that are definitely…what's the phrase? Racially charged? Tiffy is dealing with the results of a long-term emotionally abusive relationship, and Leon has some issues of his own to deal with. But if you can handle that, this book is sweet and every single relationship in it (with the exception of the obvious one) is a joy to experience.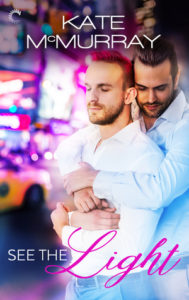 I also started reading See The Light by Kate McMurray, and while I set it aside, it's definitely worth picking up if you're a fan of friends-to-lovers stories. Justin has been trying to get his big break on Broadway for years, and it looks like he might get that chance playing a gay teen in the upcoming show See The Light. His biggest supporter is his best friend Max, who has also offered him a couch after Justin's former boyfriend kicked him out. Of course, Max has also been in love with Justin for a good decade or so, so he doesn't mind at all. Except he kind of does, because Justin doesn't feel that way at all. So yeah, YMMV, but you might like it.
***
What are you reading this week?