Today's Riot Rundown is sponsored by Sponsored by Fix Her Up by New York Times bestselling author Tessa Bailey, published by Avon.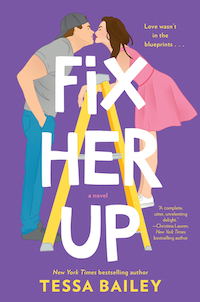 She's looking to make some updates to her interior.
He's ready to flip his whole lifestyle.
Love wasn't in the blueprints…
Georgie Castle ditched her family's renovation business to become a children's party planner…and no one's taken her seriously since. Determined to prove she's NOT a joke, she enlists the help of Travis Ford – notorious ladies' man, ex-pro baseball player, and her brother's best friend – because who better to help demolish her "little girl" image?
For Travis, having Georgie around is good for him, and his career; she's basically America's Sweetheart. But all too soon he realizes that the girl he used to tease is definitely not a kid anymore, and there's nothing fake about how much he wants her…