Hey YA readers: You've seen those movie, game, and television tie-in novels exploding lately, right? Let's hear from one of the writers of those types of books.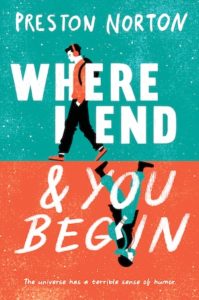 "What's Up in YA?" is sponsored by Disney Publishing Worldwide.
Freaky Friday meets She's the Man in this hilarious contemporary YA about sworn enemies who suddenly find themselves deeply intertwined. Packed with wit and heart, Preston Norton's second novel brilliantly explores relationships, gender identity, and non-conformity.
---
Micol Ostow has been writing YA for many, many years. She's done a little of everything in terms of genre, and my introduction to her work was through her horror (she is one of the winners of this year's YA honor for the Summer Scares program with her book The Devil and Winnie Flynn).
Micol isn't here to talk about that, though. One of her big writing arenas is something that absolutely fascinates me: YA tie-ins. You've seen them and will continue seeing them — these are YA books that are related to either a movie or TV series or maybe even a video game. Micol's written a Mean Girls tie-in, and right now, she's elbow deep in writing the YA tie-in series for Riverdale (which is itself fascinating, as it's gone from a comic series to a TV show and then back to print in the form of YA books!).
I've asked her to talk about what it's like writing a tie-in series, and she's here to offer up her ultimate confessions. Let's give a warm welcome to Micol Ostow — and prepare ourselves to really love the heck out of some tie-in novels.

Confessions of a Tie-In Writer
It is occasionally hard for me to get work done.
Not because I'm a procrastinator, or a woman of a certain age whose questionable multitasking skills often deteriorate into distraction (though I assure you, I am both of those things).
In fact, one of the biggest challenges in my line of work is that, as a sometime tv and movie tie-in writer, it can be a challenge to convince people that I am working.
As a freelance writer, I often work from home. I have a cozy office with a door that closes. But I also have two small children. And when they come home from school and see me on my office couch, laptop beside me and iPad streaming the latest episode of Riverdale, it's easy to understand how they might get confused.
"I know sometimes my work looks like watching tv," I tell my oldest, "but I promise you, it's actually my job." She's skeptical (rightly so).
On those occasions, I usher the one or the both of them out of the office and lock the door behind them without remorse. I'm very grateful for the lock on the door. But more than that, I'm amazed to have a job that does so often "look like watching tv."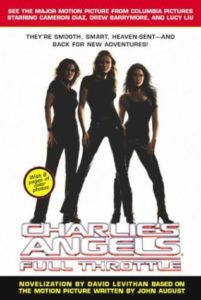 I've been a published author since 2005, and a full-time writer since 2007. I began my career in children's publishing as an editor of young adult fiction, and specifically, commercial paperbacks, many of which were based on licensed properties (some of my earliest projects included the OG "Sabrina, the Teenage Witch," "Charmed," "Buffy the Vampire Slayer," and "Angel").
*Another fun tidbit? In my former life as an editor, I had the pleasure of working on a Charlie's Angels novelization written by kidlit wunderkind David Levithan himself.
I think it goes without saying that my career is objectively awesome.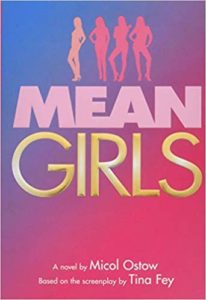 While I've had the privilege of publishing across a variety of genres and age bands since I first began writing professionally, in the last few years I've somehow found my way back to tie-in work, and happily so. An editor friend of mine reached out after acquiring the license to Mean Girls to ask if I'd be interested in working on a novel. I'd just had my second baby and my chapter book series was coming to a close, and the idea of diving head first into a fun, iconic property greatly appealed.
Tie-ins are a strange beast. One needs to be an adroit enough writer to mimic character voice, tone, and style – but not so stylized as to allow any authorial voice to pierce the veil. One needs – in most cases – to conceive of original storylines as tautly-plotted as any original work – but those plots must conform to the situational norms of the television show. And above all, one needs to defer to the creators' vision of the property itself.
Recently, I've been working on original novels and comics for "Riverdale," the teen-soap-noir drama based on the iconic Archie comic set in the eponymous town. It has been, in a word, a dream.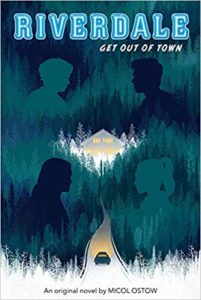 (Though technically, that's two words.)
"Riverdale" is exceptionally suited to my particular wheelhouse: I love teen drama, I love mystery, and I love a healthy dose of genre homage. In that sense, this property is no different than an original work of my own – I feel huge connection and ownership to the writing, because I feel such a kinship for the source material.
That said, it may be my wheelhouse, but it's not my sandbox; I just play in it. When asked during a recent interview how tempted I am to bend the characters and the storylines to my will, the answer was: Actually, not all that much. It might have to do with having spent so much time on the opposite side of the desk, but I'm all too aware that these characters and scenarios belong to someone else. Unlike fanfic (which I think is a fun and fantastic way to engage with one's favorite imaginary worlds), this writing isn't for me. It's for you – all the "Riverdale" fans out there looking for a fix in between episodes. My role in this case is to be an extension of the creators' vision, not to course-correct for a pairing I'm 'shipping or to rewrite the canon to suit my own preferences.
Generally speaking, I'm the sort of person who takes things much too seriously. But when it comes to writing, to creating, I think the best work, ironically, tends to bubble to the surface when we're playing, stringing thoughts and words and random tangents together with total abandon. Working with comic book characters feels like the ultimate extension of play.
At the same time, it can sometimes feel more "job-like" than writing my original stories: for one, the deadlines tend to be tighter. For another, see above re: conforming to series norms. And last but not least, a tie-in writer has to check their ego at the door. If the licensor isn't feeling what I've created, that's the final word. There are writers who might find this process too constricting. But for me, I often like having a hand to hold and a rigid-ish road map in this messy and confusing pursuit we call the writing life.
It's true that sometimes, my work looks a lot like "just watching tv." I'm not complaining. The only thing better than going full couch potato with my favorite show or movie is day spent with books, with reading or writing. To have made a career of all three feels just right.
Riverdale: The Day Before is available now, and Riverdale: Get Out of Town is also available now.
---
Thanks so much, Micol! And big thanks to everyone reading today. You're the best — and we'll see you again later this week!
— Kelly Jensen, @veronikellymars on Instagram and editor of (Don't) Call Me Crazy and Here We Are.