Welcome to another Monday, my little spine sniffers. Not a whole lot of book news the last few days, but there's still some great tidbits (and of course a kitten picture.) I hope you had a marvelous weekend and read great books. (And that the Game of Thrones series finale wasn't too horrible.) Enjoy the rest of your week and remember to be excellent to each other! I'll see you again on Thursday. – xoxo, Liberty
"Book Radar" is sponsored by Gather the Fortunes by Bryan Camp, published by Houghton Mifflin Harcourt.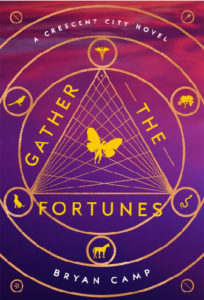 Camp returns to his otherworldly New Orleans for a new novel that evokes the magic, mystery, and mythology of Neil Gaiman's American Gods with a female protagonist that calls to mind the power and personality of Chuck Wendig's Miriam Black (Blackbirds). Is it one of the storm gods that's descended on the city? The death god who's locked the Gates of the Underworld?
Or the manipulative sorcerer who also cheated Death? When she finds the schemer, there's going to be hell to pay, because there are scarier things than death in the Crescent City. Renaissance Raines is one of them.
Here's this week's trivia question: Edward Stratemeyer created what famous character? (Scroll to the bottom for the answer.)
Deals, Reals, and Squeals!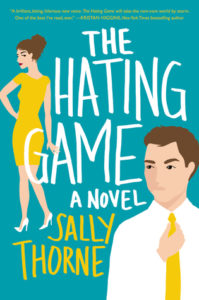 Lucy Hale and Robbie Amell will star in an adaptation of The Hating Game by Sally Thorne.
Queen Latifah and Will Smith are producing a hip-hop adaptation of Romeo and Juliet.
Lauren Oliver's Panic will be a series on Amazon.
The cast of the remake of High Fidelity with Zoë Kravitz is growing.
Cover Reveals
The Folio Society is releasing new editions of the Game of Thrones books.
Sneak Peeks
The first trailer for His Dark Materials is here!
Here's the first trailer for Nancy Drew on the CW.
Book Riot Recommends
At Book Riot, I work on the New Books! email, the All the Books! podcast about new releases, and the Book Riot Insiders New Release Index. I am very fortunate to get to read a lot of upcoming titles, and learn about a lot of upcoming titles, and I'm delighted to share a couple with you each week so you can add them to your TBR! (It will now be books I loved on Mondays and books I'm excited to read on Thursdays. YAY, BOOKS!)
Loved, loved, loved:
Will My Cat Eat My Eyeballs?: Big Questions from Tiny Mortals About Death by Caitlin Doughty (W. W. Norton & Company, September 10)
This was every bit as wonderful as I knew it would be! Doughty takes real questions she has been asked by kids – which she prefers, as adults aren't as usually as direct when talking about death – and gives funny, fascinating, and completely honest answers. While the questions have been asked by children, the book is not exactly for children. Maybe for older kids, but the graphic descriptions and frankness definitely make this more for adults, something that Doughty warns in the preface. Whoever it is for, she has once again written an informative and conscientious book about mortality. It's a book most everyone can learn from.
What I'm reading this week:
Red at the Bone by Jacqueline Woodson
Imaginary Friend by Stephen Chbosky
Prairie Fever by Michael Parker
Pun of the week: 
Need an Ark? I Noah guy.
Here's a kitten picture:
Signing Farrokh up for America's Got Talent.
And this is funny.
It's the circle of life.
Trivia answer: Nancy Drew.
You made it to the bottom! Thanks for reading! – xo, L