Today's The Stack is sponsored by Sponsored by Graphix Books, an imprint of Scholastic, Inc.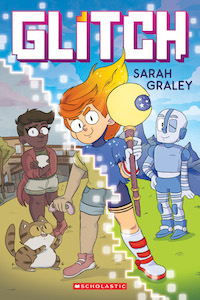 From comics rising star Sarah Graley, a fresh and funny middle-grade graphic novel featuring a girl who must save a virtual world… and her own!
Izzy has an incredible secret — she can enter the world of her new video game! She meets Rae, a robot who says Izzy is destined to save Dungeon City from the Big Boss. How is this possible?! And how can she fight for this virtual world when she's got a whole real life to keep up with: her family and her best friend, Eric. Can Izzy survive Dungeon City and save their friendship?