Hey YA Readers: Let's catch up on the latest in YA news.
"What's Up in YA?" is sponsored by Wednesday Books, publisher of Wicked Saints.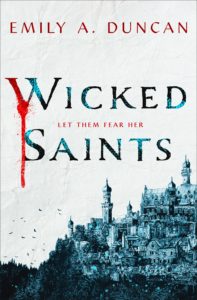 The monster hidden behind pale, tortured eyes and a devastating smile. The girl with Dark Gods whispering spells in her head. The prince surrounded by deadly assassins and ambitious suitors. "This gothic jewel of a story will sink its visceral iron claws into you, never letting go until you've turned the last page." (Robin LaFevers)
---
The YA news world has a lot of good stuff this week about adaptations, upcoming books, and more. Time to dig in!
---
Recent Reads…
Two excellent YA books I've blown through recently I want to highlight include one from an underrated author you should be checking out and one from an exceptionally-decorated author putting out her sophomore effort (with no slump!).
This is a hilarious and poignant YA retelling of the classic Cyrano de Bergerac story following best friends Aphra and Bethany. Aphra is outspoken, loud, and bold — but also, in her words, plain and not noteworthy in the looks department — while Bethany is blessed with being beautiful but is painfully shy and quiet. When Aphra develops an app for a class project and it ends up not working well but instead, allows her to connect with a boy who happens to be Bethany's crush, Aphra uses the opportunity to give Bethany the personality that will help her connect with that crush. Only, Aphra decides she likes him, too. This is a book about identity, featuring an incredible through line about body dysmorphia and about what it means to be yourself.
Emoni's been raising her daughter and living with her abuela all through high school. Her daughter's father is not entirely out of the picture, but he's also not really in it. It's senior year and Emoni is able to take a culinary arts class at her school. She's always loved to cook, and this could open up a ton of doors for her, especially if she can find a way to pay for the class's one-week immersion trip to Spain. But she and the teacher butt heads and it looks like the whole class will be a loss, until Emoni steps back and plays the class by the teacher's rules. It ultimately ends up helping her find her own way with food and cooking and discovering how to make a future in the industry.
Gorgeously written with a handful of recipes in the book, I am so ready to try Emoni's cooking. This isn't a verse novel, but Acevedo shows her poetry through the delicious prose. The cover of this book is so appealing, and I can tell just from having read the advanced copy, this is going to be a beautifully packaged book when it's out.
---
Thanks for hanging out, and we'll see you again next week!
— Kelly Jensen, @veronikellymars on Instagram and editor of (Don't) Call Me Crazy and Here We Are.