It's Monday, we're here, and there is some amazing artwork down below. But first, we gotta talk about some stuff.
---
The audiobook edition of The Girl He Used to Know by Tracey Garvis Graves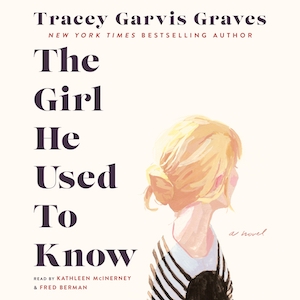 Jonathan and Annika first meet at chess club in college, where Jonathan loses his first game of chess, and his heart, Annika. Brilliant but shy, Annika prefers to be alone. But Jonathan accepts that about her, admiring Annika, quirks and all. Their relationship that follows is tumultuous, but strong, until an unforeseen tragedy forces them apart. A decade later, fate brings them back together… She's a librarian and he's a divorced Wall Street whiz seeking a fresh start. Their feelings are instantly rekindled, but until they confront the fears and anxieties that drove them apart, their second chance will end before it truly begins.
---
Let's Talk About That Article
I might have to incorporate a new regular feature called "let's talk about that thing" because…well, things keep happening. In this particular case, there was an article that went up from The Guardian on Thursday called "Fifty shades of white: the long fight against racism in romance novels." It's a Long Read, literally, and might be better to digest in bits. The journalist, Lois Beckett, put in a lot of work, time, and thought, and came out with a very thought-provoking piece—though many elements are no surprise to many authors of color, seeing it all laid out this way, with some of the elements that even many of us might have been aware of, is new. Beckett also approaches the genre with respect and some actual knowledge, which is unfortunately still something new and different for some news outlets.
The article hits on many important details covering the situation so far, and ends on a more hopeful note than I'd have expected. Give it a read and tell me what you think. A lot of authors, including Rebekah Weatherspoon and Courtney Milan, have pretty good threads on Twitter discussing it. And Beverly Jenkins shared a shocking exchange of her own.
Other News and Useful Links
While we were all talking about the Guardian article, Bustle posted one about #MeToo that I missed the first time around.
Stephen Colbert lost a friend in Romancelandia when he hosted Stacey Abrams (Kween!) on his show to promote her new book, Lead From the Outside, and proceeded to read from one of the romances she wrote under the name Selena Montgomery, even after she asked him not to.
Check out this adorable cover, though.
Olivia Waite talked about cruelty in this month's other Kissing Books.
I would bet a lot of romance readers are also fanfiction readers, or at least know what it is. Did you know that Archive Of Our Own (AO3) was nominated for a Hugo Award (the premiere award in Science Fiction and Fantasy)? Like. THE WHOLE SITE. This is amazing.
Also, it was KissCon this weekend, and I think the most important thing to note is ALYSSA'S DRESS. (Okay, also other things. Check out the hashtag for the highlights.)
Also a reminder that there's a new Book Riot podcast, Kidlit These Days!
Deals
Looking for your new favorite super sexy rockstar romance? Anna Zabo's Syncopation is 99 cents! It features some elements of BDSM and an aromantic hero who still understands love, even if he doesn't experience it. And the music is just…living in this book. Anna really knows their stuff, and can do words. Like, they can so do words. The second in the series, Counterpoint, is only 3.99. The third in the series, Reverb, is available for preorder, too!
And if you'd rather read a series that's completely out, Stroke Of Midnight by Andie J. Christopher is out as well. And it's 99 cents! The other books in the series are all under five dollars each, or you can buy the whole set for just under ten.
Cover Reveal! Plus an Exclusive Excerpt!
When I first saw the cover for Bringing Down the Duke, I might have squeaked. It's a new kind of cover for historical romance, and I'm excited to share it with you! The book, by debut author Evie Dunmore, features the first female students at Oxford, and Evie spent a lot of time doing extensive research on the topic. And this cover. Oh, this cover. But first, here's an excerpt!
—
Elsewhere at the table, polite and meaningless conversation took an unusual turn.
"Of course they are trying to get women the vote," Lord Marsden said. "They know only idiots vote for them. Mark me, should women get the vote, the Liberals will never leave power."
His wife's thin hand crept across the table toward his sleeve on a mission to placate. Marsden ignored it. "Idiots," he repeated.
"Careful, Tuppy," said Lady Lingham from her end of the table, "there are quite a few perfectly witty women present tonight."
Tuppy, Lord Marsden, waved a plump hand. "You know how I mean it, Countess."
The women at the table exchanged discreet glances, uncertain how Lord Marsden had meant it.
"Miss Archer here studies at Oxford," Lady Lingham said. "Now, what do you make of that?"
Annabelle's head turned to her sharply.
The countess was smiling. Not unfriendly, a little intrigued. For an aristo, everything could be a game.
Marsden squinted at Annabelle. "Is that so."
The faint thud of her pulse started up in her ears. "Yes, my lord."
From the corner of her eye, she saw Montgomery put down his cutlery.
"And what is the use of such a tremendous overeducation?" Marsden probed.
All other conversations had petered out and the collective attention shifted onto her, hot and exposing like a spotlight. Heat crept up her neck.
"I believe a higher education will improve me for whatever I decide to do, my lord."
An ambivalent murmur swept the length of the table. People who had to improve their lot evidently hadn't been blessed with a good station in life.
"And do you aspire to get the vote?" pressed the earl.
The minty drink had congealed to a lump in her throat. Lucie would never forgive her if she alienated several men of influence at once. She'd have a hard time forgiving herself if she made a fool of herself in front of one particular man.
"Yes, I think women should be given the vote."
Marsden triumphantly glared around the table.
"Why not give everyone who actually grasps politics the vote and exclude the rest, man or woman," Lady Lingham suggested amicably.
Marsden scoffed. "But by her very nature, a female is unable to grasp politics, or any issue if the kind."
"By her very nature?" Lady Lingham sounded notably less amicable.
"Oh, yes." The earl turned back to Annabelle. "Have you read the article recently published by the Marchioness of Hampshire? On the matter of the female brain?"
"I'm afraid not."
"Lady Hampshire is formidable," Lady Marsden said.
Everyone nodded.
"Now, miss, listen closely," Marsden said. "Lady Hampshire advises against women taking up higher education, the vote, political roles. Science has shown that the female brain is not only smaller than a man's, it is also wound up differently." His hands made a rolling, winding motion. "So even if you, Miss Archer, read all the same books and heard all the same speeches as a man, your brain would never produce the same sound analysis. You enter the same input into your brain, but something gets lost in its twists and turns, so you get a different output, a diminished output."
He looked at her expectantly.
"That sounds disconcerting," she allowed.
"Well indeed," he said impatiently, "so why not follow Lady Hampshire's advice? Keep yourself content in your femininity instead of confused?"
She could hardly dismiss the judgment of the formidable Lady Hampshire in front of this audience, and Marsden knew. His eyes held glints of smugness and victory.
It must have been that, and the hearty dash of bourbon, that made her say: "Because, my lord, if the marchioness believes that the female brain is incapable of forming a sound analysis on political issues, why should anyone trust her analysis on women in politics?"
Silence filled the dining room.
Then a coughing noise erupted from Peregrin, and he quickly raised his napkin to his mouth, his eyes watering with suppressed glee.
"Why, Miss Archer," Lord Easton said slowly, "you should take up law. You would give my old solicitor Beadle a good run for his money."
"Hear, hear," Richmond said, "she's much easier on the eye than Beadle, too."
More than a few people chuckled, and Marsden turned red in the face. "The spread of rampant liberalism is no laughing matter," he barked.
"Rampant liberalism was not your problem here, Marsden."
The duke had said so little all evening, the sudden sound of his voice had the effect of a thunderbolt.
All heads swiveled toward his end of the table.
Montgomery was stone faced.
Marsden looked a little uncertain. "Then what would you call it, Duke?"
Montgomery picked up his glass. "It is called logic," he said, and raised the glass toward Annabelle in a small but unmistaken salute.
Text copyright © 2019 by Evie Dunmore. Used by permission of Berkley.
—
And now….
Bringing Down the Duke!
Evie Dunmore wrote Bringing Down The Duke inspired by the magical scenery of Oxford and her passion for romance, women pioneers, and all things Victorian. In her civilian life, she is a consultant with a M.Sc. in Diplomacy from Oxford. She lives in Berlin and pours her fascination with 19th century Britain into her writing. Learn more at eviedunmore.com and connect with her Twitter @evie_dunmore.
Bringing Down the Duke is available for preorder now, so check it out!
As usual, catch me on Twitter @jessisreading or Instagram @jess_is_reading, or send me an email at jessica@riotnewmedia.com if you've got feedback, book recs, or just want to say hi!