Today's Riot Rundown is sponsored by Penguin Teen.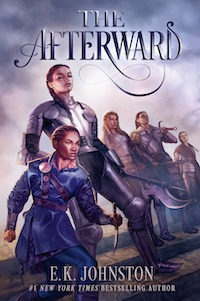 A Romantic high fantasy from the bestselling author of Star Wars: Ahsoka and Exit, Pursued by a Bear. Apprentice Knight Kalanthe Ironheart wasn't meant for heroism so early in life, and while she has no intention of giving up the notoriety she's earned, reputation doesn't pay her bills. Kalanthe may be forced to betray not her kingdom or her friends, but her own heart as she seeks a stable future for herself and those she loves.
Olsa Rhets daughter was never meant for heroism at all. Beggar and thief, she lived hand to mouth on the streets until fortune–or fate–pulled her into Kalanthe's orbit. And now she's reluctant to leave it.
In a tale both sweepingly epic and intensely personal, Kalanthe and Olsa fight to maintain their newfound independence and to find their way back to each other.