Hey YA Readers: Grab your TBR list and ready your writing implements!
"What's Up in YA?" is sponsored by Soho Teen.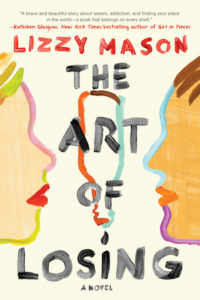 A drunken mistake. A life-changing accident. The bonds of sisterhood are tested by addiction and a crushing betrayal in Lizzy Mason's debut. When 17-year-old Harley Langston sees her boyfriend kissing her sister Audrey at a house party, she's furious. But when her boyfriend drunkenly tries to drive Audrey home, he crashes leaving Audrey in a coma. Adrift in a sea of guilt, grief, and anger, Harley is surprised to reconnect with Raf, an old friend just out of rehab. As Audrey recovers, Harley can see a path forward with Raf's help—one guided by honesty and forgiveness.
---
We kicked off Black History Month by looking at some fabulous YA titles hitting shelves by male-identifying black authors. Let's now highlight some of the YA by black female-identifying authors hitting shelves this year. I've used pronouns as found on author websites to make these identifications.
There are a pile of sequels hitting shelves this year, and I've not included them below. But that doesn't mean you should sleep on titles like Children of Virtue and Vice by Tomi Adeyemi, A Dream So Dark by LL McKinney, or The Everlasting Rose by Dhonielle Clayton. This list is also not meant to be comprehensive.
Some of the books below don't yet have preorder availability, so in those cases, I've linked to Goodreads for more detailed descriptions.
Girls Like Us by Randi Pink (October 29)
We're getting a few books about teen pregnancy and about the challenges of abortion access (thanks, current political climate!). This one follows four girls in 1972 dealing with unwanted pregnancy and what they can — and cannot — do about their situations.
If you like road trip books, this one will be a winner. It follows a girl whose mom forbids her from trying out for the dance conservatory, but she chooses to hop in the car and attend a tryout anyway…when her neighbor and his dog insist they join along, or he'll tell Chloe's mom what she's up to.
A story about a girl who has graduated from high school, the summer she spends working her grandma's diner that she hopes to inherit, a fatphobic small town, and a need to make money in order to fulfill her dream. Also, a moment to just !! about that cover.
When Steph is killed, his music career could be buried with him. But his friends come to the rescue, creating a persona for the sound and they have everyone in their Brooklyn neighborhood hooked on his rap style. But when the music catches some bigger attention, the trio of friends have to figure out whether to tell the truth or continue to play the part of The Architect.
On The Come Up by Angie Thomas (available now)
If you haven't picked up Thomas's new New York Times Bestselling novel, do it now. It's about a young teen rap artist navigating her father's legacy and cutting her own teeth in the industry.
Birdie has always been the perfect daughter, but when she begins dating a boy who has a troubled past and her aunt, who also has a troubled past, shows up at her family's home, Birdie begins to push her boundaries bit by bit. How will she react, then, when a long-held family secret comes to light, destroying everything she thought she knew about her life?
There's not a cover for this one yet, but get it on your radar. The story follows two very different girls — one in Trinidad and one in Minneapolis — who are brought together and find themselves falling in love with one another.
If you want a slow-burn romance, featuring space travel, longing, grief, and adventure, you'll want to pick this one up. This is a queer romance between a girl from a trailer park and a girl whose mother is an astronaut who volunteered to travel one-way to the edge of the solar system.
If you love stories of first love — and first loss — this is a book to get on your radar. After a magical summer of romance with Ashton ends with loss, Devon slowly pulls herself back together. But when Ashton shows up again in her life, will she ever be able to heal? Will she allow herself to fall in love again?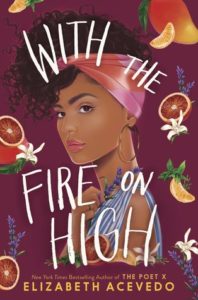 With The Fire On High by Elizabeth Acevedo (May 7)
Emoni Santiago is in charge of her daughter, as well as her abuela, and though she's only a senior in high school, she's forced to be an adult. Her comfort? It comes in the kitchen, where she finds herself falling in love with cooking. But can she make a future of it?
____________________
Hope you found some excellent new reads here! We'll see you again next week with some news, some links, and a really fabulous interview.
— Kelly Jensen, @veronikellymars on Instagram and editor of (Don't) Call Me Crazy and Here We Are.