Take a fantastic voyage! Today, we're going around the globe, through magical realms, and across enchanted pages for World of Fantasy Day.
---
Sponsored by Kingdom of Copper by S.A. Chakraborty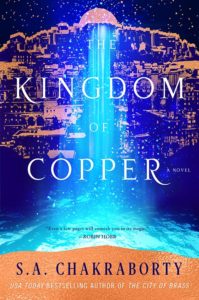 In Daevabad, djinn summon flames with the snap of a finger, blood can be dangerous as any spell, and a clever con artist from Cairo will alter the fate of a kingdom in the thrilling sequel to THE CITY OF BRASS. As Nahri carefully navigates life in the dangerous royal court, Ali has been exiled and must rely on the frightening abilities gifted to him by unpredictable spirits in order to survive. A new century approaches, but as the djinn gather for celebrations, a threat brews unseen in the desolate north, one that seeks the aid of an ancient warrior trapped between worlds.
---
Saddle your magical steed and join us over at Book Riot to celebrate and explore fantasy traditions, retellings, and works in translation from around the world!
Start with our welcome post where you can find a round-up of all of the day's fantasy content. We've got fantasy reads from Africa, Slavic speculative fiction in translation, Middle Eastern and Indian-inspired YA tales, Harry Potter readalikes, and much more.
So head to Book Riot and enjoy a day of international fantasy!