Hello, and happy Thursday! It has already been an exciting week, both in the book world (SO MANY COVER REVEALS!) and here in Maine – because I got kittens! So as you can guess, there has not been a lot of reading getting done the last few days, because of all the cuteness, but it should be back to normal soon. Please enjoy this picture of a kitten in unicorn pajamas as you head into your weekend. And please be kind to yourself as well as others, and remember that I love you and I like you. – xoxo, Liberty
---
Sponsored by King of Scars by Leigh Bardugo and the Grishaverse.
No one knows what Nikolai endured in his country's bloody civil war – and he intends to keep it that way. As the young king strives to rebuild his country and forge new alliances, the dark magic growing within him threatens to destroy all he has built. Nikolai must journey to the places where the deepest magic survives to vanquish the terrible legacy inside him. But some secrets aren't meant to stay buried—and some wounds aren't meant to heal. Enter the Grishaverse with this new novel from #1 New York Times-bestselling author Leigh Bardugo. Face your demons…or feed them.
---
Here's this week's trivia question:  Who said, "We all tell ourselves stories in order to live?" (Scroll to the bottom for the answer.)
Deals, Reals, and Squeals!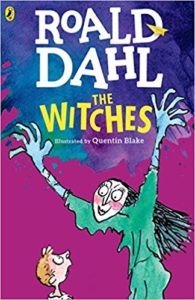 Anne Hathaway to star in Robert Zemeckis' The Witches.
Sharon Stone and Cynthia Nixon join cast of Netflix's Cuckoo's Nest prequel Ratched.
Tomi Adeyemi announced a new release date of Children of Virtue & Vengeance.
A+E Studios is partnering with Swoon Reads to develop YA for TV/film.
Scott Lynch's Gentlemen Bastard series sold to Phoenix Pictures for development.
A live-action The Hunchback of Notre Dame movie musical is in the works.
Bill Skarsgård and Eliza Scanlen join Netflix's adaptation of The Devil All the Time.
A new Star Trek novel will explore the U.S.S. Enterprise pre-Captain Kirk.
Cover Reveals
It's here! Congratulations to Rioter Karina Yan Glaser on the beautiful cover for her forthcoming book, The Vanderbeekers to the Rescue! (HMH Books for Young Readers, September 17)
Here's the first look at Carmen Maria Machado's memoir, In the Dream House. SPOILER: It's amazing. (Graywolf Press, October 1)
And here's the first look at the Chilling Adventures of Sabrina prequel, Season of the Witch by Sarah Rees Brennan. (Scholastic Inc., July 9)
Daniel José Older shared the cover of his next adult novel: The Book of Lost Saints. (Imprint, November 5)
And here's the cover for Make It Scream, Make It Burn: Essays by Leslie Jamison. (Little, Brown and Company, September 24)
And check out Cari Mora, the new novel coming from Silence of the Lambs author Thomas Harris! (Grand Central Publishing, May 21)
And Tor.com released several incredible covers out into the world: Silver in the Wood by Emily Tesh (June 18), The Survival of Molly Southbourne by Tade Thompson (July 9), and The Border Keeper by Kerstin Hall July 16).
Sneek Peeks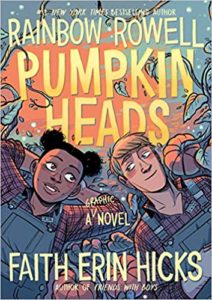 Here's a look at the first pages of Pumpkinheads by Rainbow Rowell and Faith Erin Hicks. (First Second, August 27)
Here's a new teaser for the final season of Game of Thrones.
And here's the trailer for Siempre Bruja: Always a Witch on Netflix, based on the novel Yo, Bruja by Isidora Chacón.
And here's the first trailer for Spiderman: Far from Home.
Book Riot Recommends 
At Book Riot, I work on the New Books! email, the All the Books! podcast about new releases, and the Book Riot Insiders New Release Index. I am very fortunate to get to read a lot of upcoming titles, and learn about a lot of upcoming titles, and I'm delighted to share a couple with you each week so you can add them to your TBR! (It will now be books I loved on Mondays and books I'm excited to read on Thursdays. YAY, BOOKS!)
Excited to read: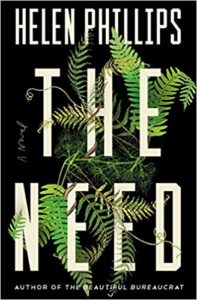 The Need by Helen Phillips (Simon & Schuster, July 9)
Helen Phillips is amazing and I am wildly in love with her work, so I cannot wait to get my hands on this novel, about a paleobotanist who hears an intruder in her house while she's alone with her small children. She has to protect her children, but also the identity of the intruder is going to shock her. It is sure to be brilliant!
What I'm reading this week.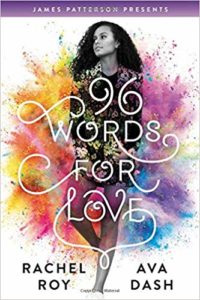 96 Words for Love by Rachel Roy and Ava Dash
Toast by Laurie Foos
The Assassination of Brangwain Spurge by M.T. Anderson and Eugene Yelchin
And this is funny.
Can't. Stop. Watching.
Trivia answer: Joan Didion.
You made it to the bottom! High five. Thanks for reading! – xo, L