Today's Riot Rundown is sponsored by Nightchaser by Amanda Bouchet.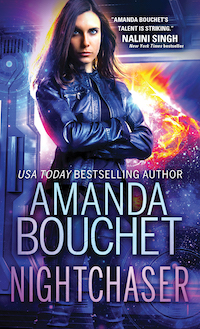 Captain Tess Bailey and her ragtag band of thieves are wanted criminals. They steal from the "haves" to give to the "have nots." Even though her heart is in the right place, her actions still get her into trouble – and there's no trouble greater than the dreaded Galactic Overseer Novalight.
After stealing a top-secret military laboratory and inciting Novalight's rage, Tess and her crew manage to escape—and miraculously survive. Docked on their new planet, Tess encounters the tall, dark, and haughty bounty hunter Shade Ganavan, who has to decide if he wants to turn them over to the Galactic Overseer and be set for life, or if the real payoff is winning Tess's heart.