Hey YA readers! Let's look at something royal coming in the new year.
"What's Up in YA?" is sponsored by The NOVL.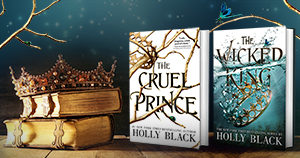 After the shocking revelations and betrayals in The Cruel Prince, Jude continues to navigate the Faerie world as a mortal. Unable to trust her family and dangerously drawn to the cruel prince of Elfhame, Cardan, Jude will do anything to hold on to the power she's fought for.
---
It's coincidence that today's sponsor is Holly Black's royally-titled YA series.
One of my weaknesses when it comes to writing about YA is that I don't read a significant amount of fantasy. But I know many of you, as well as those of you who work with young readers, are huge fantasy fans.
As I was brainstorming newsletter topics, I realized that highlighting an array of YA fantasy books featuring aspects of royalty in the title would be fun. And thus, a royally-themed fantasy collection of new YA books.
Kings, queens, princes, courts, and more. Get your royal fantasy on in 2019 with this selection of titles. Note that because I've put so many limitations on this list (titles with royalty + fantasy books), this is far whiter than I'd like it to be. Next year, we'll see royally-titled fantasy reads from Marie Lu, Zoraida Cordova, and more.
Descriptions are from Goodreads since my writing about them not having read them wouldn't be especially helpful.
The Evil Queen by Gena Showalter (June 25, no cover yet!)
Welcome to the Forest of Good and Evil. A dream come true, and a living nightmare.
Evil isn't born, it's made. One thought and action at a time. Take a good look at what you've made.
Far, far away, in the realm of Enchantia, creatures of legend still exist, magic is the norm and fairy tales are real. Except, fairy tales aren't based on myths and legends of the past—they are prophecies of the future.
Raised in the mortal realm, Everly Morrow has no idea she's a real life fairy tale princess—until she manifests an ability to commune with mirrors.
Look. See… What will one peek hurt?
Soon, a horrifying truth is revealed. She is fated to be Snow White's greatest enemy, the Evil Queen.
With powers beyond her imagination or control—and determined to change Fate itself—Everly returns to the land of her birth. There, she meets Roth Charmaine, the supposed Prince Charming. Their attraction is undeniable, but their relationship is doomed.
As bits and pieces of the prophecy unfold, Everly faces one betrayal after another, and giving in to her dark side proves more tempting every day. Can she resist, or will she become the queen—and villain—she was born to be?
Get in quick, get out quicker.
These are the words Keralie Corrington lives by as the preeminent dipper in the Concord, the central area uniting the four quadrants of Quadara. She steals under the guidance of her mentor Mackiel, who runs a black market selling their bounty to buyers desperate for what they can't get in their own quarter. For in the nation of Quadara, each quarter is strictly divided from the other. Four queens rule together, one from each region:
Toria: the intellectual quarter that values education and ambition
Ludia: the pleasure quarter that values celebration, passion, and entertainment
Archia: the agricultural quarter that values simplicity and nature
Eonia: the futurist quarter that values technology, stoicism and harmonious community
When Keralie intercepts a comm disk coming from the House of Concord, what seems like a standard job goes horribly wrong. Upon watching the comm disks, Keralie sees all four queens murdered in four brutal ways. Hoping that discovering the intended recipient will reveal the culprit – information that is bound to be valuable bartering material with the palace – Keralie teams up with Varin Bollt, the Eonist messenger she stole from, to complete Varin's original job and see where it takes them.
All hail the Girl King. 
Sisters Lu and Min have always understood their places as princesses of the Empire. Lu knows she is destined to become the dynasty's first female ruler, while Min is resigned to a life in her shadow. Then their father declares their male cousin Set the heir instead—a betrayal that sends the sisters down two very different paths.
Determined to reclaim her birthright, Lu goes on the run. She needs an ally—and an army—if she is to succeed. Her quest leads her to Nokhai, the last surviving wolf shapeshifter. Nok wants to keep his identity secret, but finds himself forced into an uneasy alliance with the girl whose family killed everyone he ever loved…
Alone in the volatile court, Min's hidden power awakens—a forbidden, deadly magic that could secure Set's reign…or allow Min to claim the throne herself. But there can only be one Emperor, and the sisters' greatest enemy could turn out to be each other.
King of Fools by Amanda Foody (April 30)
On the quest to find her missing mother, prim and proper Enne Salta became reluctant allies with Levi Glaisyer, the city's most famous con man. Saving his life in the Shadow Game forced Enne to assume the identity of Seance, a mysterious underworld figure. Now, with the Chancellor of the Republic dead and bounties on both their heads, she and Levi must play a dangerous game of crime and politics…with the very fate of New Reynes at stake.
Thirsting for his freedom and the chance to build an empire, Levi enters an unlikely partnership with Vianca Augustine's estranged son. Meanwhile, Enne remains trapped by the mafia donna's binding oath, playing the roles of both darling lady and cunning street lord, unsure which side of herself reflects the truth.
As Enne and Levi walk a path of unimaginable wealth and opportunity, new relationships and deadly secrets could quickly lead them into ruin. And when unforeseen players enter the game, they must each make an impossible choice: To sacrifice everything they've earned in order to survive…
Or die as legends.
King of Scars by Leigh Bardugo (January 29)
Nikolai Lantsov has always had a gift for the impossible. No one knows what he endured in his country's bloody civil war—and he intends to keep it that way. Now, as enemies gather at his weakened borders, the young king must find a way to refill Ravka's coffers, forge new alliances, and stop a rising threat to the once-great Grisha Army.
Yet with every day a dark magic within him grows stronger, threatening to destroy all he has built. With the help of a young monk and a legendary Grisha Squaller, Nikolai will journey to the places in Ravka where the deepest magic survives to vanquish the terrible legacy inside him. He will risk everything to save his country and himself. But some secrets aren't meant to stay buried—and some wounds aren't meant to heal.
Tiger Queen by Annie Sullivan (September 10)
In the mythical desert kingdom of Achra, an old law forces sixteen-year-old Princess Kateri to fight in the arena against twelve suitors to prove her right to rule. For Kateri, losing is not an option because in order to fulfil her promise to her late mother, she must win to keep her crown and lead her people. The situation outside the palace is uneasy. The harsh desert is unforgiving, water is scarce, and Kateri's people are thirsty. To make matters worse, the gang of thieving Desert Boys, the same group that killed Kateri's mother and her new baby, frequently raids the city wells and steals water, forcing the king to ration what little water is left. The punishment for stealing water is the choice between two doors. Behind one door lies freedom and behind the other is a tiger.
The people of Achra are growing restless and distrustful of the monarchy, and when Kateri's final opponent is announced, she knows she cannot win. In her desperation, Kateri turns to the desert and the one person she never thought she'd side with. Her future now, too, is behind two doors—only she's not sure which holds the key to keeping her kingdom and which will release the tiger.
____________________
Thanks for hanging out & we'll see you next week with a round-up of recent YA news.
— Kelly Jensen, @veronikellymars on Instagram and editor of (Don't) Call Me Crazy and Here We Are.