Hey, hey, happy Monday, readers! I hope you had a marvelous weekend. I spent it – wait for it – reading books! It was wonderful. I hope you found great things to read as well, and if you're looking for suggestions, or just want to pump up your TBR, behold! I tweeted my favorite 150 books of 2018 last week. It's my favorite thing to do for New Year's Day each year! You can see all the titles here.
I have to say, I'm enjoying the two newsletters a week situation! It makes them more manageable, more bite-sized. Enjoy your upcoming week, be kind to yourself as well as others, and remember that I love you and I like you. – xoxo, Liberty
---
Sponsored by the Class of 2k19 books: 20 authors, 20 MG and YA novels debuting in 2019.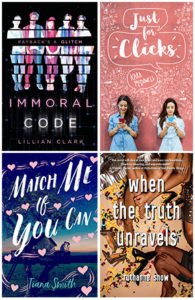 The Class of 2k19 books' spring YA recommendations:
IMMORAL CODE: Ocean's 8 meets The Breakfast Club. "Fast-paced, audacious, and laugh-out-loud funny." – Caleb Roehrig
JUST FOR CLICKS: Mommy blogs are great…unless the blog belongs to yourmom. "Breezy and fresh meditation on privacy and relationships." – Kirkus
MATCH ME IF YOU CAN: For fans of Kasie West and Jenny Han. "Will keep you smiling until the very last page." – Rebecca Phillips
WHEN THE TRUTH UNRAVELS: Paper Towns meets Thirteen Reasons Why­—at prom. "For every teen girl trying her best, fearing she isn't enough."- Rachel Solomon
---
Here's this week's trivia question: What does the 'N' in N.K. Jemisin stand for? (Scroll to the bottom for the answer.)
Deals, Reals, and Squeals!
The Cooking Gene author Michael W. Twitty announced he has a new book coming in December!
Queer Eye star Karamo Brown is publishing a memoir.
Huh. Ingrid Michaelson is turning The Notebook into a musical.
Ruby Rose's Batwoman gets CW pilot order with Game of Thrones director.
Killing Eve sets season 2 premiere date.
Cover Reveals
Belletrist has the cover reveal for Costalegre by Courtney Maum.  (Tin House Books, July 2)
Tor.com is revealing the cover to Gideon the Ninth today, so I'll share it in Thursday's newsletter. I AM SO EXCITED!
Sneek Peeks
Here's a peek at On the Come Up, the new novel from Angie Thomas.
Book Riot Recommends 
At Book Riot, I work on the New Books! email, the All the Books! podcast about new releases, and the Book Riot Insiders New Release Index. I am very fortunate to get to read a lot of upcoming titles, and learn about a lot of upcoming titles, and I'm delighted to share a couple with you each week so you can add them to your TBR! (It will now be books I loved on Mondays and books I'm excited to read on Thursdays. YAY, BOOKS!)
Loved, loved, loved: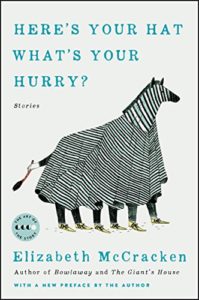 Here's Your Hat What's Your Hurry (Art of the Story) by Elizabeth McCracken (Ecco, February 5, 2019)
I love Ecco's Art of the Story series, and I am particularly thrilled that they are reissuing McCracken's debut story collection, because she is a wonder and a marvel. Also! This is being released the same day as her fabulous new novel, Bowlaway. So that's two reasons to be excited that day.
What I'm reading this week.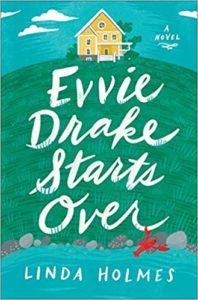 Evvie Drake Starts Over by Linda Holmes
Gideon the Ninth by Tamsyn Muir
Killer Stuff and Tons of Money: An Insider's Look at the World of Flea Markets, Antiques, and Collecting by Maureen Stanton
Book joke of the week:
Why is a math book always unhappy? Because it always has lots of problems.
Trivia answer: Nora.
You made it to the bottom! Thanks for reading! – xo, L