Hey YA readers! Let's kick off a new reading year.
"What's Up in YA?" is sponsored by The Similars by Rebecca Hanover.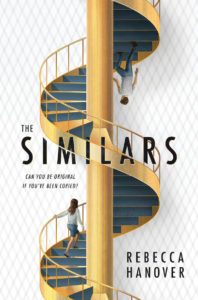 This fall, six new students are joining the junior class at the elite Darkwood Academy. But they aren't your regular over-achieving teens. They're clones. And they're joining the class alongside their originals. The Similars are all anyone can talk about: Who are these clones? What are the odds that all of them would be Darkwood students? And who is the madman who broke the law against cloning to create them? Emmaline Chance couldn't care less. Her best friend, Oliver, died over the summer and it's all she can do to get through each day without him. Then she comes face-to-heartbreaking-face with Levi—Oliver's exact DNA replica and one of the Similars.
---
Open up your TBR, be it digital or analog, and get ready to add some exciting new books to it. I've invited a number of beloved YA authors to share their picks for the books they're most excited to read in the new year.
Oh, and the second book on this list? It was recommended by not one, but two authors.
Stacey Lee disarms the cliche of the "strong female protagonist" in such a way that we still get the strong-minded feminism and pretty period dresses in her historical fiction, but powerfully rooted and grounded in intersectional diversity. And the beautiful cover on this just blew. me. away.
— Tanita S Davis, author of Peas and Carrots
This books sounds like The Selection meets Project Runway and as a former costume designer, I can't wait to read all about the jaw dropping dresses! Kraus' world— a reimagined Europe— sounds lush and intriguing.
— Erin A. Craig, author of House of Salt and Sorrows
Autumn is a literary force! Stylish, elegant, sleek and dark, her prose is indelible. I had the pleasure of working with her and I can't wait for the world to meet her debut novel!
— Micol Ostow, author of Riverdale: The Day Before
More medieval French assassin nuns? Yes, please! Robin LaFevers' His Fair Assassin series (starting with GRAVE MERCY) is one of my favorites. She writes amazing, feminist historical fantasy: well-paced, impeccably researched, and swooningly romantic.
— Jessica Spotswood, author of The Last Summer of the Garret Girls
Ever since I saw that gorgeous cover, I've been eager to read Jaye Robin Brown's next book. I loved Georgia Peaches & Other Forbidden Fruit, so I can't wait to get my hands on this one. It also looks like it's going to give me a lot of feelings, so my tears and I are eager to dig in.
— Amy Spalding, author of The Summer of Jordi Perez (and the Best Burger in Los Angeles)
Slay by Brittney Morris (No date or cover yet, but you can add it on Goodreads)
Pitched as READY PLAYER ONE meets THE HATE U GIVE, SLAY not only features a whip smart black girl gamer who has created an epic virtual world that initialky exists outside the white gaze, it uses that world and its effects on reality to highlight racial imbalances of power and what people of color can do to protect their safe spaces. I read it early and I can't WAIT for everyone else to get their hands on it.
— Nic Stone, author of Odd One Out
Amber writes with such beauty and such a big heart, and I can't wait to read this love story featuring a transgender character. I've had the privilege of hearing her read a couple snippets and they were incredible.
— Amy Reed, author of The Boy and Girl Who Broke The World
Sarah Enni's debut, about the intersection of technology and art set in high school, promises to check all my geek-out boxes. Add in secrets and relationships at risk and I'm totally in. Enni hosts an insightful podcast about writing and writers, the First Draft Podcast. Between that and her love of YA, I'm hopeful her first book will be a pièce de résistance!
— Kayla Cagan, author of Art Boss
Because Safi set out to write the Rory + Paris book that every Gilmore Girls fan (not so) secretly wanted. I can't wait to read this fun, intelligent lesbian enemies-to-lovers story!
— Sarah Enni, author of Tell Me Everything
Set during the 1969 race riots in Kuala Lampur, THE WEIGHT OF OUR SKY takes us to a place and time in history that most American readers are wholly unaware of. I love books that open doors into other cultures, nations, and histories. As Americans we are too often isolationist not merely in our personal and global politics but even in our choices of narratives that we gravitate towards. Hanna's writing shines and her beautiful book is invitation to open our eyes and broaden our worldview.
— Samira Ahmed, author of Internment (March)
Unedited and Edited, both by Barry Lyga (They are 2 versions of the same book — no date or cover yet, but you can add Edited and Unedited on Goodreads)
I've known about this project for years, and I know its level of ambition, and nothing gets me more excited than someone really swinging for the fences.
— Daniel Kraus, author of The Shape of Water
Mejia is one of the most exciting new young authors I've had the pleasure to read in short form. Her voice is bright, beautiful and sparking, her insight sharp with glittery clarity, and I cannot wait to see what she does with the full length of a novel to explore.
— Saundra Mitchell, editor/author of All Out
____________________
Thanks for hanging out & thanks to this wonderful group of authors who've shared some of their most-anticipated reads. We'll see you again on Monday.
— Kelly Jensen, @veronikellymars on Instagram and editor of (Don't) Call Me Crazy: 33 Voices Start The Conversation About Mental Health