Time to prepare your TBR, YA fans!
"What's Up in YA?" is sponsored by Once A King and HMH Teen.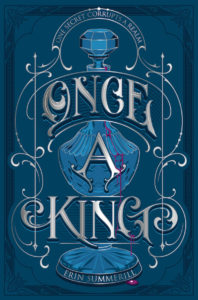 Aodren: A lonely, young king, searching for a way to dismantle his father's dark legacy.
Lirra: A girl with the power to control the wind, torn between duty and following her dreams.
For twenty years, Channelers—women with a magical ability—have been persecuted in Malam by those without magic. Now King Aodren wants to end the bloody divide and unite his kingdom. But decades of hatred can't be overcome by issuing decrees, and rumors of a deadly Channeler-made substance are only fueling people's fears. Lirra has every reason to distrust Aodren. Yet when he asks for help to discover the truth behind the rumors, she can't say no. With Lirra by his side, Aodren sees a way forward for his people. But can he rewrite the mistakes of the past before his enemies destroy the world he's working so hard to rebuild?
---
We've talked about so much great YA over on Book Riot in the last month. Let's catch up with the lists and thoughts from on site this week, followed by a look at some of the awesome new books coming soon that you'll want to get excited about.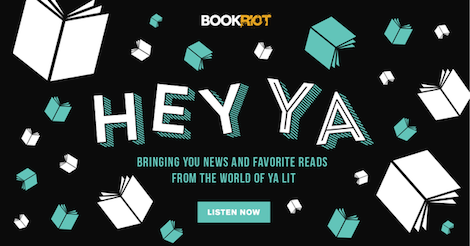 Have you tuned into Hey YA, the all-YA book podcast hosted by Eric Smith and myself? If not, hop over and give a listen. Our latest episode is a guide to great YA books for gifting this season (or, you know, for reading yourself).
Recent Book Mail
Here's a huge stack of recent YA books that have hit my door step. There are finished, currently-available books in here (including the gorgeous movie-packaged edition of Dumplin') as well as a ton of upcoming 2019 reads. Listed from top to bottom. Also, it's not you — the image is slightly crooked so I could get all of the books in one shot and without all of the other stuff that was piled on my table #realtalk.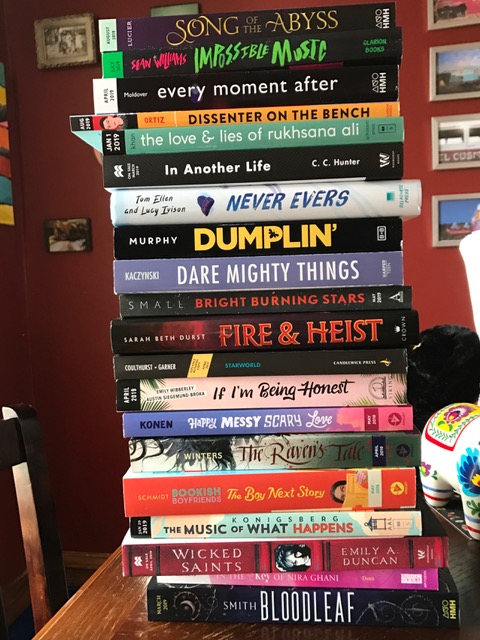 Song of the Abyss by Mikila Lucier
Impossible Music by Sean Williams
Every Moment After by Joseph Moldover
Dissenter On The Bench by Victoria Ortiz
The Love and Lies of Rukhsana Ali by Sabina Khan
In Another Life by CC Hunter
Never Evers by Tom Ellen and Lucy Ivison
Dumplin' by Julie Murphy
Dare Mighty Things by Heather Kaczynski
Bright Burning Stars by AK Small
Fire and Heist by Sarah Beth Durst
Starworld by Audrey Coulthurst and Paula Garner
If I'm Being Honest by Austin Siegemund-Broka and Emily Wibberley
Happy Messy Scary Love by Leah Konen
The Raven's Tale by Cat Winters
Bookish Boyfriends: The Boy Next Door by Tiffany Schmidt
The Music of What Happens by Bill Konigsberg
Wicked Saints by Emily A. Duncan
In The Key of Nira Ghani by Natasha Deen
Bloodleaf by Crystal Smith
Also received in the mail, but not pictured (yet!) was Laurie Halse Anderson's SHOUT, out in March. Not pictured because I'm just about done with it and my tear stains are still a little too fresh for photographing.
____________________
Thanks for hanging out & we'll see you on Thursday with another preview of some awesome 2019 YA you'll be excited about.