It's official, the season of bookish awards and "best of the year" lists has begun! This week, the winners of the 2018 Kirkus Prizes were announced – congrats to Rebecca Solnit, who won for Call Them by Their True Names. According to NPR, "Each winning book nets $50,000 for the folks behind it, along with the slightly less tangible — though surely no less rewarding — laurels of recognition."
---
Sponsored by Interweave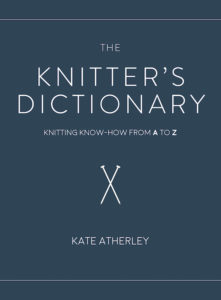 From "alt" to "yrn," knitting patterns have a unique language of abbreviations and knitting techniques. The Knitter's Dictionary is your comprehensive resource to understanding the language of knitting in a quick-reference guide that no knitting bag should be without. For beginner and skilled knitters alike, there's always something new to discover in your next hand knit project. The Knitter's Dictionary puts an expert knitting instructor in the palm of your hands to help you navigate any pattern.
---
Voting has also opened in the Goodreads Choice Awards, which is celebrating a decade of readers choice award giving. I still haven't really figured out how they slice and dice all of the nonfiction up, but I was interested in a new category, Best of the Best, which will pick the top books among winners over the last 10 years. There are some great nonfiction books in that category, including some of my favorites like The Immortal Life of Henrietta Lacks by Rebecca Skloot, When Breath Becomes Air by Paul Kalanithi, Wild by Cheryl Strayed, and Quiet by Susan Cain.
And with that, on to some more bookish news and some newish books!
News Stories That Made Me Go 🤔
Lena Dunham has been tapped to write the script for a big screen adaptation of A Hope More Powerful Than the Sea by Melissa Fleming. The book is the true story of Doaa Al Zamel, a 19-year-old Syrian refugee who stayed afloat on an inflatable ring with two little girls for four days after the ship they were on sank. It sound like an incredible story, but hearing that Dunham is writing the adaptation feels squicky for some reason I can't quite place.
Martin Scorsese and Leonardo DiCaprio have signed on to direct and star in an adaptation of David Grann's Killers of the Flower Moon. I'm not at all surprised this is getting adapted, but I hope the script veers away from a story about saviors from the FBI and focuses instead on the truly unsettling story of the Osage Nation and the conspiracy behind their murders. A friend and I thought it could make a genuinely creepy horror movie if they go that route.
This last one is 🤔 in a good way. Turns out that each fall Goldman Sachs puts out a reading list that includes "a diverse collection of thought-provoking books you won't want to put down." Maybe I'm a cynic, but I was genuinely surprised at how diverse and interesting it is – a cool mix of fiction and nonfiction that doesn't track to the business books I was expecting. The pictures in it made me smile too – so many ebook readers!
New Books!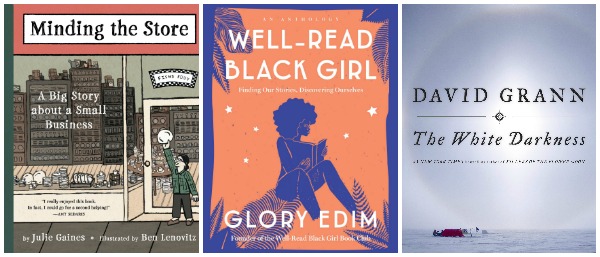 Minding the Store by Julie Gaines and Ben Lenovtiz – This nonfiction comic is the story of Fishs Eddy, an iconic housewares shop in New York City. Gaines, one of the co-founders and co-owners of the store, recounts "the ups and downs … of starting a family business, starting a family, and staying true to one's path while trying to make it in the Big City."
Well-Read Black Girl by Glory Edim – This collection of essays by black women writers is all about "the importance of recognizing ourselves in literature." The list of contributors is amazing: Jesmyn Ward, Gabourey Sidibe, Tayari Jones, Morgan Jerkins and more. Wow, that sounds good.
The White Darkness by David Grann – In 2015 Henry Worsely, a British special forces officer, set out to recreate Ernest Shackleton's solo attempt to cross Antarctica on foot This one feels a little like a cheat because Grann originally wrote the story for the New Yorker, but I feel like the illustrated print edition is going to be a great book to give as a gift this year.
And with that, it's a wrap on this week's newsletter. I hope you had an awesome Halloween, and an even more awesome time falling back this weekend. I can't decide if I'm going to use the extra hour to sleep or read, but either way it'll be great. You can find me on Twitter @kimthedork, and co-hosting the For Real podcast here at Book Riot with questions and comments!