Hey YA readers: Let's catch up on YA book talk from around Book Riot this month.
"What's Up in YA?" is sponsored by Easy Prey by Catherine Lo, from Amulet Books and PiqueBeyond.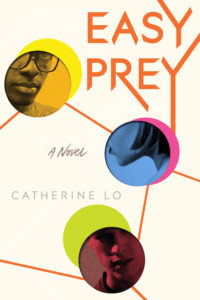 Only three students had access to a teacher's racy photos before they went viral. There's Mouse, a brainy overachiever so desperate to get into MIT that he would do almost anything, legal or not. There's Drew, the star athlete with a history of passing private photos around. And there's Jenna, a good girl turned rebel after her own pictures made the rounds last year. All three deny leaking the photos, but someone has to take the fall.
---
Before diving into a round-up of recent YA book talk over on Book Riot, there's this worth dropping in:
Jennifer Aniston wearing a crown is how the world should always be. Here's your first look at her new film, Dumplin', set to come out on December 7th. pic.twitter.com/H58IzDjVFD

— NetflixFilm (@NetflixFilm) October 23, 2018
Dumplin' will be airing on Netflix beginning December 7. I don't know about you, but I'm grabbing my tiara and preparing for it.
Two new episodes of Hey YA have dropped, too. Tune in for discussion of YA friendships and recent/upcoming reads for your TBR, as well as talk about YA anthologies and small/indie press YA books.
____________________
Recent Book Mail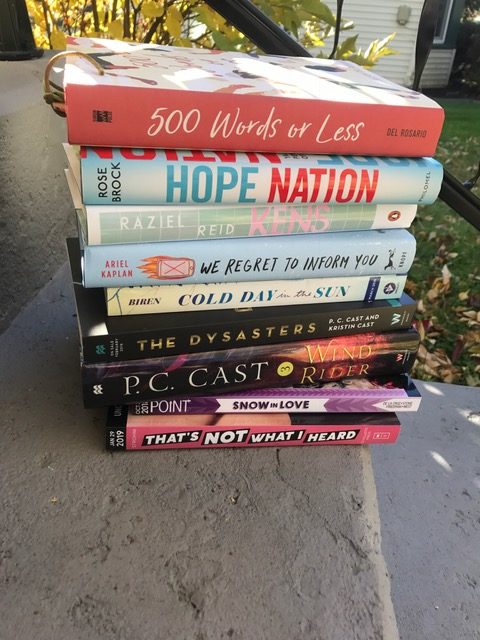 I just got back from a YA lit conference, so the top few books are things I bought while there. From top to bottom!
500 Words or Less by Julia Del Rosario
Hope Nation edited by Rose Brock
Kens by Raziel Reid
We Regret To Inform You by Ariel Kaplan
Cold Day In The Sun by Sara Biren
The Dysasters by PC and Kristin Cast
Wind Rider by PC Cast
Snow In Love by Nic Stone, Melissa de la Cruz, Kasie West, and Aimee Friedman
That's Not What I Heard by Stephanie Kate Strohm
____________________
Cheap Reads
Grab these YA books while they're available for just a few bucks or less. Deals current as of Tuesday, 10/23.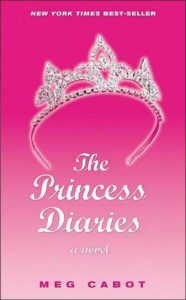 Looking for a haunted twin story? Into The Grey by Celine Kiernan is $2.
Laurie Devore's How To Break A Boy (that cover!) is $3.
Want to revisit or pick up The Princess Diaries for the first time? It's only $3.74.
Speaking of classics in YA, Louise Rennison's Angus, Thongs, and Full-Frontal Snogging is $2.
____________________
Thanks for hanging out & we'll see you again next week!