With fall in full swing up in the Northern Hemisphere, so comes the influx of YA book news.
"What's Up in YA?" is sponsored by Hearts Unbroken by Cynthia Leitich Smith.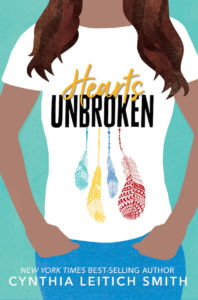 When Louise Wolfe's first real boyfriend mocks and disrespects Native people in front of her, she breaks things off and dumps him over e-mail. It's her senior year, anyway, and she'd rather spend her time with her family and friends and working on the school newspaper. The editors pair her up with Joey Kairouz, the ambitious new photojournalist, and in no time the paper's staff find themselves with a major story to cover: the school musical director's inclusive approach to casting The Wizard of Oz has been provoking backlash in their mostly white, middle-class Kansas town. From the newly formed Parents Against Revisionist Theater to anonymous threats, long-held prejudices are being laid bare and hostilities are spreading against teachers, parents, and students — especially the cast members at the center of the controversy, including Lou's little brother, who's playing the Tin Man. As tensions mount at school, so does a romance between Lou and Joey — but as she's learned, "dating while Native" can be difficult. In trying to protect her own heart, will Lou break Joey's?
---
Shout out to a book I really enjoyed as today's sponsor — if you haven't, add Hearts Unbroken to your TBR.
Grab your favorite snack and get ready to get caught up on the latest in YA news this week!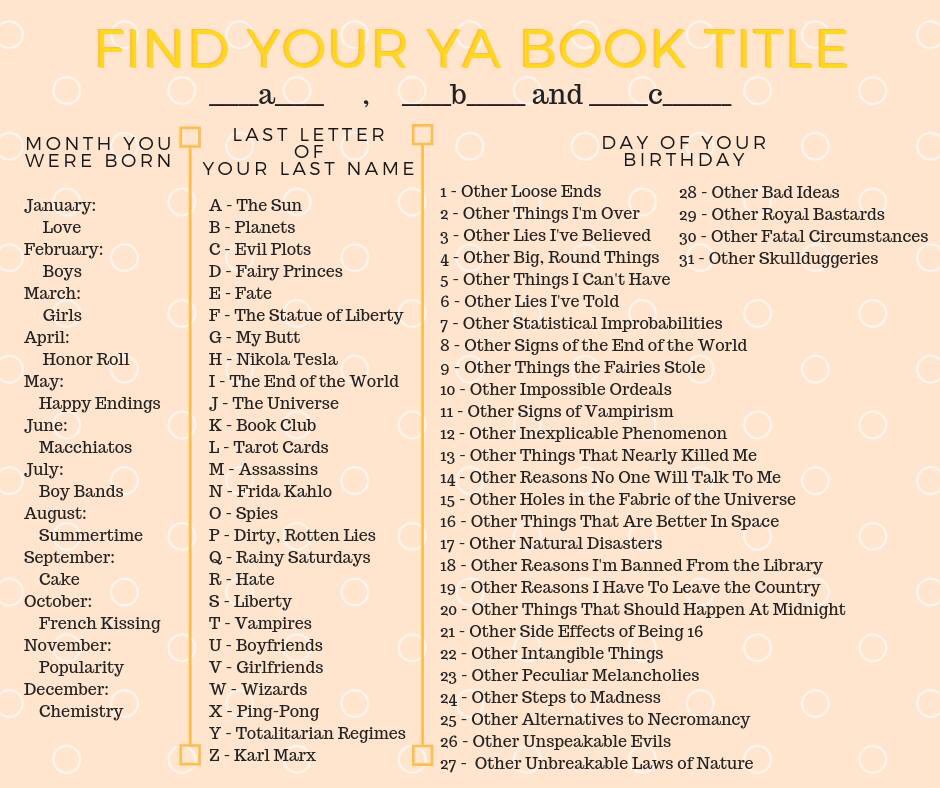 Cake, Frieda Kahlo, and Other Alternatives to Necromancy is my YA book title. What's yours?
Recent Book Mail
A very manageable mail week, so enjoy the seasonal photograph! From top to bottom: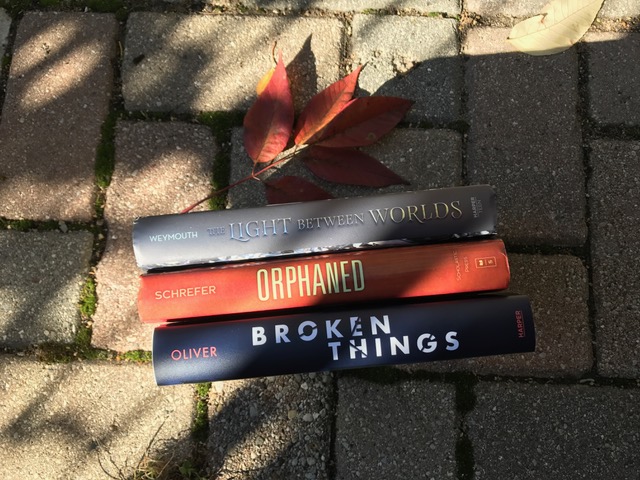 The Light Between Worlds by Laura E. Weymouth
Orphaned by Eliot Schrefer
Broken Things by Lauren Oliver
Cheap Reads
Prices for these books are current as of Tuesday, October 16. Snag a good read for a little less cash.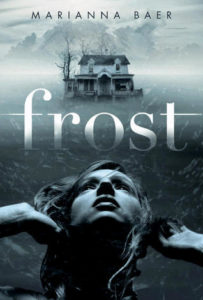 Frost by Marianna Baer — if I could recommend a creepy YA book for the season, this is my favorite and wildly underrated. $4.
Printz Award winner Bone Gap by Laura Ruby is $2.
Want another good Printz Award winning read for $2? Try Jellicoe Road by Melina Marchetta.
Nic Stone's must-read debut Dear Martin is $2.
Matt de la Peña's Mexican White Boy is $2.
Tell Me Again How a Crush Should Feel by Sara Farizan is $2.
Feral Nights, the first in a trilogy by Cynthia Leitich Smith, is $2.
____________________
Thanks for hanging out and we'll see you again next week!