Hello Space Elves,
It's Sharifah subbing for Jenn again. Today, I'm talking about novellas. SFF novellas have been on fire lately–I have so much catching up to do. So, here are some recent novellas that I loved or anticipate reading.
---
Sponsored by Epic Reads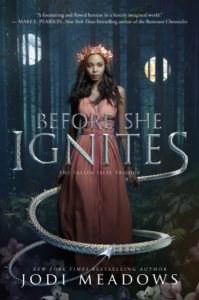 Mira has always been a symbol of hope for the Fallen Isles, perfect and beautiful—or at least that's how she's forced to appear. But when she uncovers a dangerous secret, Mira is betrayed by those closest to her and sentenced to the deadliest prison in the Fallen Isles.
Except Mira is over being a pawn. Fighting to survive against outer threats and inner demons of mental illness, Mira must find her inner fire and the scorching truth about her own endangered magic—before her very world collapses.
And that's all before she ignites. Don't miss book two in the trilogy, AS SHE ASCENDS, on sale now!
---
Gods and romance! Aqib bgm Sadiqi has fallen for Lucrio, but his love is met with disapproval and gossip. Will they find their happily ever after? This is the story of star-crossed lovers, the son of the Master of Beasts and a handsome Daluçan soldier, both in Olorum, a land ruled by royalty and gods. It sounds 100% immersive.
Murderbot seeks self. I have been wanting to read this series for a while. At the start of the series, Murderbot is on the job, trying to find out why a neighboring mission has gone dark, but all it really wants is to be left alone to figure itself out.
All this series needs is a Radiohead soundtrack.
"Orisha, airships, and adventures," you say? Count me in. This steampunk novella set in an alternate New Orleans recently came in from my library holds list. The tale features a wall-scaling girl named Creeper who's trying to escape the streets during the American Civil War. She tries to earn a place aboard an airship named Midnight Robber (get the reference?). All the yeses for this one.
I'm on the third book in this series and I have been loving its dark whimsy. These are the stories of children returned from other worlds. Worlds of logic, of nonsense; worlds where skeletons dance and candy corn grows in fields. McGuire writes a good character, and some great twisted tales about strange kids. If you like your fantasy on the morbid side, I would definitely recommend this series.
The novellas in this series are standalones, so you don't even have to read them in order! Here's what the first book, The Black Tides of Heaven, is about: Mokoya and Akeha, the twin children of the Protector, are taking their gifts of sight to two sides of a growing rebellion. Though they grew up together in the Grand Monastery, the battle between the Machinists and the Tensors might tear them apart. I can't wait to get into this series.
Until we meet again. If you're interested in more science fiction and fantasy talk, you can catch me and Jenn on the SFF Yeah! podcast. And say hello on Instagram!
Forever cackling,
Sharifah