Happy Tuesday, book lovers! As always, I am delighted to be writing this, and I am delighted you are reading this. Books are just so heckin' swell! (Yes, I am a human exclamation point.) I have some more wonderful books to recommend today, and you can also hear about several more great titles on this week's episode of the All the Books! Rebecca and I talked about Dactyl Hill Squad, Rage Becomes Her, The Dinosaur Artist, and more.
---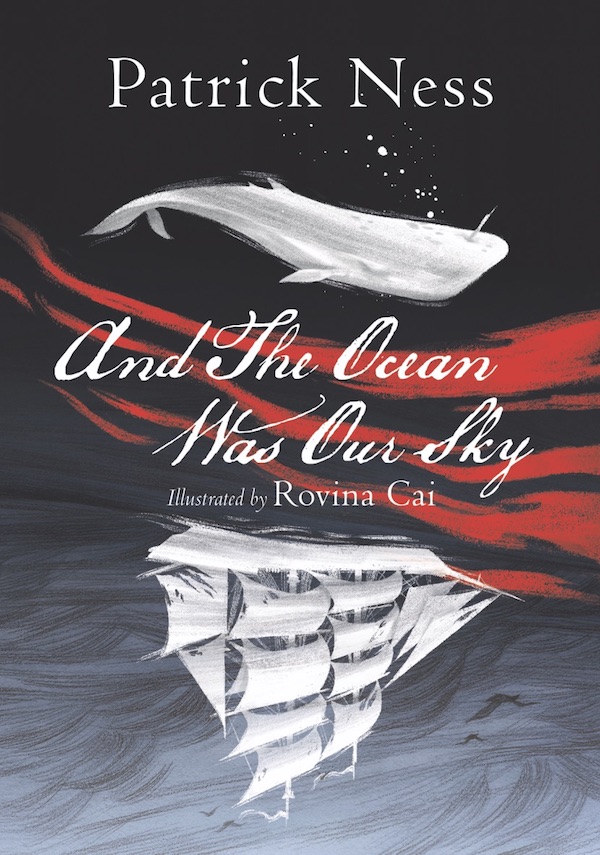 And The Ocean Was Our Sky by Patrick Ness
With harpoons strapped to their backs, the proud whales of Bathsheba's pod live for the hunt, fighting in the ongoing war against the world of men. When they attack a ship bobbing on the surface of the Abyss, they expect to find easy prey. Instead, they find the trail of a myth, a monster, perhaps the devil himself…
From #1 New York Times bestselling author Patrick Ness comes a richly illustrated and lyrical tale, one that asks harrowing questions about power, loyalty, obsession, and the monsters we make of others.
---
P.S. Don't forget we're giving away a 6-month subscription to OwlCrate Jr! Enter here!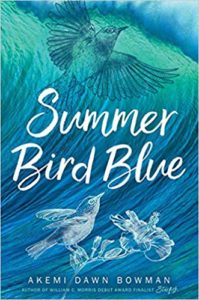 Summer Bird Blue by Akemi Dawn Bowman
Rumi Seto had her whole life planned out, and everything involved writing music with her beloved younger sister, Lea. But when Lea dies in an accident, Rumi's mother sends her to stay with family in Hawaii. Helping Rumi process her grief are her neighbors, a surfer boy and an eighty-year-old man. With their help, she will find a way back to the music she and Lea made. Like Starfish before it, this is a powerful and moving novel.
Backlist bump: Starfish by Akemi Dawn Bowman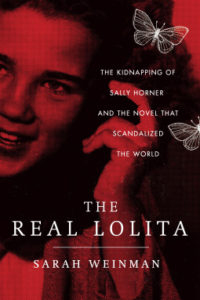 The Real Lolita: The Kidnapping of Sally Horner and the Novel That Scandalized the World by Sarah Weinman
The little-told real life crime story that influenced Nabokov's famous novel: the 1948 kidnapping of eleven-year-old Sally Horner. Using the facts of the case combined with history and investigative reporting, Weinman has written the first full account of the kidnapping, including uncovering Nabokov's own efforts to hide the fact that he knew of the crime.
Backlist bump: The Man Who Loved Books Too Much: The True Story of a Thief, a Detective, and a World of Literary Obsession by Allison Hoover Bartlett
She Would Be King: A Novel by Wayétu Moore
An exhilarating debut novel about the beginning of Liberia, told through the lives of three characters who meet in the settlement of Monrovia. Moore mixes magical realism with history to produce a beautiful story of a new nation.
Backlist bump: This Child Will Be Great: Memoir of a Remarkable Life by Africa's First Woman President by Ellen Johnson Sirleaf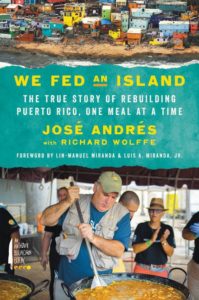 We Fed an Island: The True Story of Rebuilding Puerto Rico, One Meal at a Time by José Andrés
The true story of a group of chefs who fed hundreds of thousands of people in Puerto Rico in the wake of Hurricane Maria. Chef José Andrés spent his days there with other cooks, helping create meals that would feed many people at a time. This is his inside take on the crisis. With a forward from Lin Manuel-Miranda and his father, Luis A. Miranda, Jr. (Note: This is one of the last books being published by Anthony Bourdain's imprint.)
Backlist bump: Ricanstruction: Reminiscing & Rebuilding Puerto Rico by Gail Simone, Rosario Dawson, Ruben Blades, and more
That's it for me today – time to get back to reading! If you want to learn more about books new and old (and see lots of pictures of my cats, Millay and Steinbeck), or tell me about books you're reading, or books you think I should read (I HEART RECOMMENDATIONS!), you can find me on Twitter at MissLiberty, on Instagram at FranzenComesAlive, or Litsy under 'Liberty'!
Stay rad,
Liberty