Hey YA readers: This is an exciting newsletter and I can't wait to share.
"What's Up in YA?" is sponsored by A Room Away From The Wolves by Nova Ren Suma.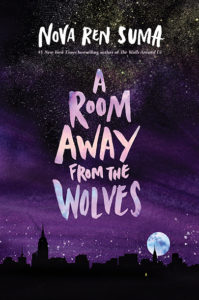 Nova Ren Suma, the New York Times #1 bestselling author of The Walls Around Us, returns with a mesmerizing gothic novel about the dark secrets teenager Bina discovers when she runs away to Catherine House in New York City. As nightmare and memory tangle, she will be forced to face the terrible truth of why she's come here and what it will cost for her to leave. A Room Away from the Wolves is a spellbinding ghost story about who deserves a second chance, how we lie to ourselves and those around us, and what lengths girls go to in order to save each other.
---
Before the newsletter, a quick announcement: we want to hear about your reading habits! Hop over to our fall reading survey and share, share, share.
And now: a fun, fun piece from Kendare Blake.
Kendare Blake continues to grow as a YA author, racking up accolades, critical acclaim, and devoted readers. The next book in her "Three Dark Crowns" series hits shelves tomorrow, September 4, and it's called Two Dark Reigns.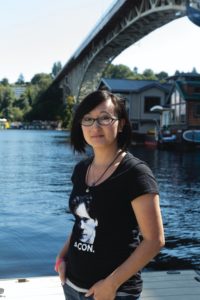 I asked Kendare to share some of her favorite books, movies, and video games; I was not sad to find myself adding so many new things to my "do, see, try" lists. While you wait for that next book, you can enjoy these things in the mean time . . . and immediately after you immerse yourself in Two Dark Reigns.
Without further ado, Kendare Blake!
____________________
Are you a bookworm? Do you like to play video games? Do you also like to watch…things…on the moving picture talk box? You do? Me too! So I thought it would be fun to do a little round of Read, Watch, Play, where I pair delightful combinations of books, video games and movies/tv shows. Ready? Here we go!
If you like: Epic quests through dangerous territory + Norse mythology then you should: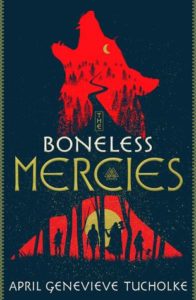 Read: The Boneless Mercies by April Genevieve Tucholke. It's a genderbent Beowulf retelling about a band of mercy-killing girls who decide to give up the mercy-killing and grab themselves some glory, by undertaking a quest to slay a fearsome monster. Come for the blood and axes, stay for the salt marsh witches and the girl-gang bravery.
Watch: Vikings on the History Channel. The bloody trajectory of Ragnar Lothbrok and his family, from everyday, regular Viking to warring Viking royalty will have you raising your mugs of mead and singing…one of those songs you sing with mead.
Play: God of War. The new one, for PS4. It plunks Kratos right down in the midst of Norse Country and pits him against gods and beasts and maybe the World Serpent? It also gives him a son to teach the ways of the warrior and makes for some fun dual combat. I called this game "Teamwork with Man Friend." Kratos would obviously be the Man Friend. So I guess that makes his kid…Teamwork?
If you like: learning the art of a master assassin and diving deep into the history of a place, then you should: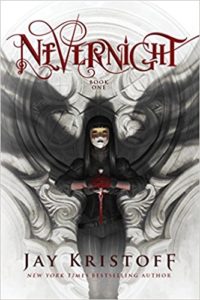 Read: Nevernight by Jay Kristoff. It's the story of Mia, orphaned but bent on bloody revenge, and her path to becoming one of the most badass killers her country has ever seen. Filled to the brim with fascinating footnotes on the history of the world, and also with smartass shadow animals.
Play: Assassins Creed. But not the one about the Revolutionary War. Or Black Flag.
Watch: Assassins Creed. Haha, I'm just kidding. No one should ever watch that.
If you like: Dragons, and folks caught up in a destiny far larger than themselves, + more dragons, then you should: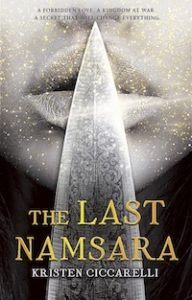 Read: The Last Namsara by Kristin Ciccarelli. Can the greatest dragon slayer somehow also be the greatest dragon whisperer? That would seem unfair, but trust me, it ends up making sense.
Watch: Dragonheart. Because who doesn't want a dragon with the voice of Sean Connery. That dragon will eat you shaken, not stirred.
Play: Dragon Age: Inquisition. A sprawling RPG that let's you take on the role of mage or rogue or warrior, that has a really good narrative. Come for the monster fighting, stay for the possibility of sleeping with an elf. They are wily bedmates, I hear.
If you like: Dreamlike fantasies with intensely beautiful worldbuilding + wow so many colors! Then you should: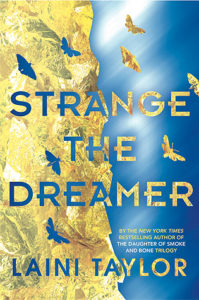 Read: Strange The Dreamer by Laini Taylor. A half-god girl with blue skin and red hair hides away with her similarly colored brethren in the hopes that the humans below will not one day murder them. And a regularly shaded librarian with an uncanny knack for figuring things out embarks on a quest to a world he thought to be legend. Maybe to save it. Maybe not.
Watch: The Neverending Story. I know there are not that many colors in it, but it is mightily fantastic. Follow it up with like, Finding Nemo if you're craving some blues and oranges.
Play: Final Fantasy X. I find it the prettiest installment in the franchise, and one of the best stories as well. The animations for summoning your fancy guardian force friends are not to be missed.
And finally, if you like pioneer stories with plucky heroines + the possibility of dying of dysentery, then you should: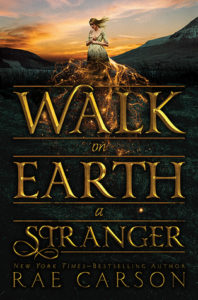 Read: Walk On Earth A Stranger by Rae Carson. A girl who can sense the presence of gold tries to make it west for the gold rush, to escape her horrible uncle and to follow the only boy she cares about in the world. Come for the gold, stay for the wagon trains.
Watch: I don't know, maybe old episodes of Little House on the Prairie? I recommend the one where Pa plays a fiddle. That probably doesn't narrow it down much. Maybe the one where Laura kicks Nellie in the face.
Play: The Oregon Trail. Or, if you don't have a floppy disk drive, then Horizon: Zero Dawn. It has a similarly plucky heroine who must mine the wilderness on her quest to find answers about why she is an outcast from her tribe. Come for the robot dinosaurs (ROBOT DINOSAURS!) stay for the engaging storyline.
____________________
Thanks for hanging out, and we'll see you Monday!