It's been mostly good news this week (with a few minor…hiccups), and I need to read faster because there's so much good stuff hanging down the pipeline.
News and Useful Links
Alyssa Cole is teaching an online romance writing class! If you've got 300 bucks to spare (not a bad price point, honestly), you'd be learning from one of the best.
---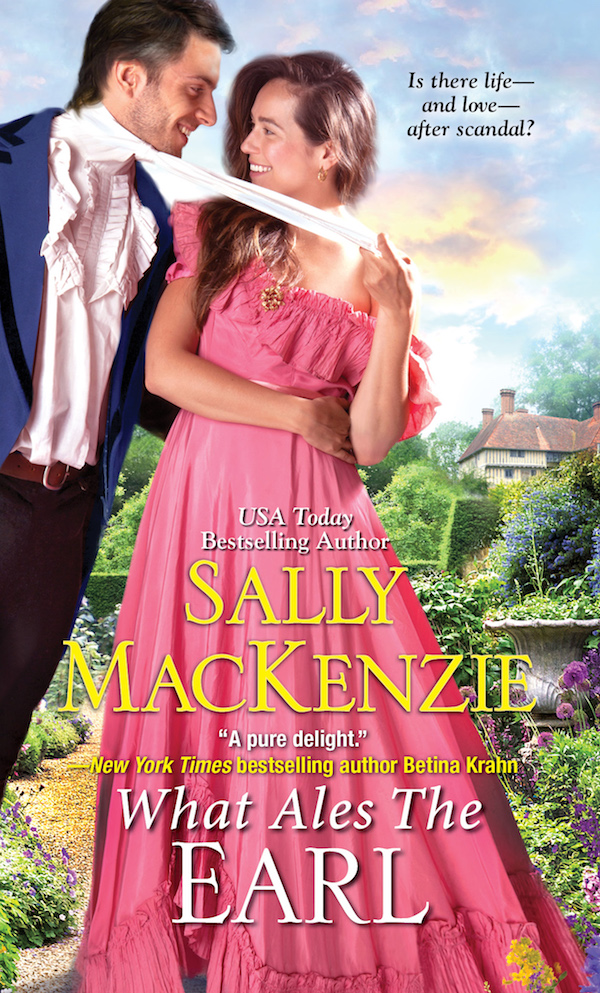 Sponsored by Kensington Publishing Corp.
Misfortune begets second chances in USA Today bestselling author Sally MacKenzie's brand new Regency-set series, filled with her signature wit, warmth, and humor. Scandal does not define the "fallen" ladies of Puddledon Manor's Benevelolent Home. Instead, it's a recipe for an intoxicating new future as the women combine their talents to operate their own brewery and alehouse.
---
Tessa Dare left us something nice on her website.
Amazon shared their best romances for August.
In this EW article, Christina Lauren shared that, in part because they wrote the original before the most recent election, they are updating the screenplay for the film adaptation of Roomies to reflect our times better—with things being what they are, having a white undocumented immigrant might even come across as tone deaf nowadays. There's also lots of good stuff about romcoms coming back to the movies, and the fact that romances are great content for them (who knew, right?).
Courtney Milan is giving us Mrs. Martin's Incomparable Adventure in October and I'm super excited. If you've read After The Wedding you know Mrs. Martin is The Best.
Maya Rodale put some summer reads together on NPR.
And if you think Talia Hibbert's fiction is fire, you should check out her most recent essay. *snaps*
Deals
Do you want ridiculous cute steampunk in your life? If so, How to Marry a Werewolf is definitely a thing you want.
JT Geissenger's Burn For You is 2.49. I haven't read it but remember reading the squeeing when it first came out.
Did I mention The Duchess Deal is 1.99? Because The Duchess Deal is 1.99.
Mariana Zapata's Kulti is 1.49. If we're talking pages per dollar, that's basically the best deal on the planet.
Over on Book Riot
Our favorite BR contributors have given us some peak content this week:
Have you ever been curious about how to delete books from your Kindle or Kindle App? (Or maybe you bought something by accident and need to return it?)
Also! There's still time to enter the Recommended giveaway! You have until August 31 to take the chance to get 16 awesome books featured on the Recommended podcast. So check that out, definitely.
Recs!
I realized recently that while I have an endless TBR I'll never be able to catch up on, there are books (or types of books) that I always have on hand to read when I need them. Maybe I'm having a bad day, or I'm not feeling well. Some romances practically have healing powers when it comes to reading them on sick days. Then of course there's the books I am interested enough in to read but can also easily put down—those are perfect to have on my phone for times when I don't have or can't logically pull out a book.
The Sick Day Read
I always keep one backlist title by favorite authors around, just to have something to grab when I'm not feeling well. Sometimes, I want something heartwrenching and angsty, because I already feel like crying. Other times, I need something so ridiculously funny, I find myself smiling and laughing through every wheeze and cough. I've shared some of these with you before; books like Roan Parrish's Riven and Courtney Milan's The Heiress Effect. I also felt this way about Talia Hibbert's Damaged Goods, which was such a great read for a bad morning.
This weekend, it was Say Yes to the Marquess.
In the second book of the Castles Ever After series, we meet Clio Waitmore–I mean, Whitmore—who has been engaged for eight years. (Spoiler not spoiler, I'd already read the book featuring the man she was originally engaged to, so…) Her husband-to-be is finally coming back to England after several years abroad, and she has finally made up her mind: she's not getting married. She just needs his brother Rafe, the current executor of his estate, to sign some dissolution papers so she doesn't have to actually confront Piers upon his return. But Rafe refuses to sign, determined to convince Clio that she wants this marriage. All he needs is a week at her castle to lavish her in lush wedding preparations.
The Pick-Up Anytime
I cycle through phone-books in lengthy cycles. Three or four months, at least. These are the books I read when I don't have my current read on a lunch break, or I'm waiting in line, or I've just found myself with some time on my hands but it would be awkward to have a physical book or my ipad in my hand. That's when I go back to that book I can pick up anytime. It's not boring, but it's not one of those books you have to devour or your brain will hate you. Sometimes, it graduates from phone-book to the devouring kind, like KJ Charles' A Seditious Affair. That one started out slowly enough that I could read it in lines, or at IKEA. Then, wham! I was reading it for hours and hours and hours. Others that have had this position on my phone include Robin Covington's Playing the Part and Mina V. Esguerra's Future Chosen.
Right now, it's Riley Hart's Faking It.
Gary and Travis live in an apartment complex that is very much a gay community. So when Gary's ex boyfriend (who moved in with a younger man across the hall) mentions that he saw Gary with Travis, a hot neighbor who had actually been hooking up with Gary's roommate, Gary goes with it. Travis, hearing this conversation and feeling the need to save Gary, approaches with an unexpected move. And then all of a sudden Gary and Travis are "boyfriends" and have to do things like, I don't know, actually know each other. Madness ensues.
I'm only about 25 percent into the book, but so far it's helped me get through a few lines, two shorter-than-expected lunches, and a random solitary dinner at the mall. The chapters are short enough that I'm not usually left in a lurch smack in the middle of a scene, but long enough that the story does progress as I slowly inch forward. It helps that it's one of my favorite tropes: fake dating. So I already have some investment, and want to see it through, bit by bit.
(I realize that this is how some of you read in general, and I salute you for being able to stitch everything together on the regular.)
What are your go-tos?
New and Upcoming Releases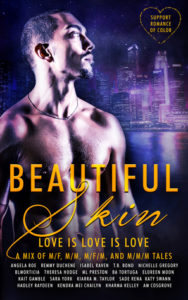 Beautiful Skin: A People of Color Anthology
From Here to You by Jamie McGuire
All the Way by Kristen Proby
Fire and Water by Andrew Grey
Stripped by Zoey Castile (August 28)
The Governess Game by Tessa Dare (August 28)
Nine Years Away by Stella Torres (August 30)
As usual, catch me on Twitter @jessisreading or Instagram @jess_is_reading, or send me an email at jessica@riotnewmedia.com if you've got feedback or just want to say hi!