This edition of Today in Books is sponsored by A WILLING MURDER by Jude Deveraux from MIRA Books.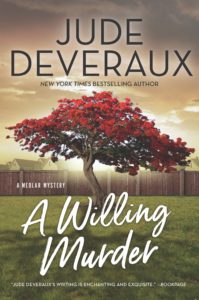 ---
Freeze Drying Process Recovers Damaged Rare Books
The California State Library managed to save hundreds of rare books using a freeze drying process. Over the winter, a ceiling leak damaged the books, some of which dated back to the 1800s. Thankfully, many of these books are ready for reshelving!
ALA Fellow Responds To Tor's E-Book Embargo
Over at Publisher's Weekly, the ALA's appointed digital content fellow, Sari Feldman, addressed Tor's recent e-book embargo for libraries. Feldman described the SFF publisher's experiment to learn if library lending is negatively impacting retail e-book sales as a wake-up call for librarians to protect patrons' access to digital content. "I am ready to take a fire hose to this problem," said Feldman.
Watch Out For Watchmen
HBO ordered a full series for Watchmen, based on the comic by Alan Moore and artist Dave Gibbons. We also have the full cast lineup, which includes Regina King and Jeremy Irons (what what). HBO's first superhero series arrives in 2019.
And don't forget, we're giving away a stack of books from Season 2 of Recommended, in honor of the upcoming third season of the podcast! Click here to enter.