Happy Thursday, Loves! We've had an overabundance of riches when it comes to new books, happy news, and public clapbacks this past week.
---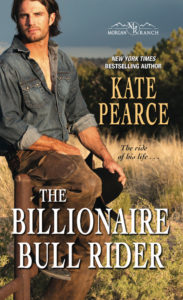 Sponsored by Kensington Publishing Corp.
One by one, the Morgan men find themselves returning to the northern California ranch where their troubled pasts first began. Together, they have a chance to leave the past behind and forge a new future based on brotherhood, hope, and love. In this fifth installment of bestselling author Kate Pearce's popular Morgan Ranch series, Rio Martinez's long and winding road has brought him to a legendary Western ranch—to the brothers he calls friends, and a woman who could change his roving ways…
---
News and Useful Links
We try to keep up with diverse new releases, but it's hard to catch everything, right? Well, Suzanne from Love in Panels, Thein-Kim from The Bawdy Bookworm, and Jen of Jen Reads Romance fame got together to build this bit of magnificence.
IS IT 2020 YET?!?!?
Were you a little confused by the Kindle Unlimited book stuffing business? Bree tried to make it a little more clear.
That cover. Whew.
And speaking of book announcements, check out the summary of the new Mia Sosa book coming out!
It's been a while since we've had Deadly Sexy news, but hey! It's a trailer!
And speaking of adaptations, the rights for ALL THE THINGS have been bought for The Kiss Quotient! *please do the rep right**please do the rep right*
Also, the new Driven adaptation is coming soon to Passionflix!
So Cosmo and Audible are doing a thing. Know anybody interested?
Need a new shirt? This #weneeddiverseromance campaign is going until Monday!
Deals!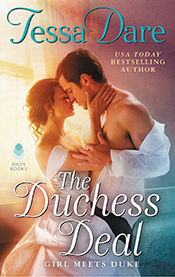 Peeps! The Duchess Deal is 1.99! Get it before The Governess Game comes out!
Looking for a new family saga? Elle Wright's Touched By You is 1.99, as well!
Or how about a new, well-established paranormal series? Cynthia Eden's Burn For Me is also 1.99.
Curious about Selena Montgomery, the romance author persona of Gubernatorial Candidate Stacey Abrams? Well, her book Reckless is 3.99 right now.
Over on Book Riot
Angel's got a new obsession, and we're totally behind her.
When you start comparing heroines to the great Elle Woods, you've definitely got my attention.
And also, don't forget to enter to win 16 books featured on the awesome Recommended podcast!
Recs!
If you couldn't tell from the subject line, I wanted to talk about a couple dukes. We all know that there are more dukes in romance than there are people in the state of Rhode Island, but we love them for it. There are all kinds of impossible dukes: tall, short, stodgy, rebellious, gay, straight, somewhere in between. I have never bothered to crack an early nineteenth-century Debrett's, so I really have no idea how many dukes there might have been at one time, but we're drowning in them, and I love it. We do need to talk about the fact that in romance, Regency and Victorian England apparently have more dukes per capita than people of color, but that's a very long treatise for another day. Let's talk about a couple of my recent favorites (this will be no surprise).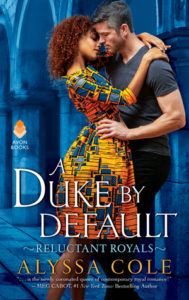 A Duke By Default
Alyssa Cole
In the second Reluctant Royals book, Ledi's friend Portia has taken an apprenticeship to a brusque Scottish swordsmith. Portia herself needs time to figure her own stuff out, and believes that this endeavor is a great start to Project: New Portia. Unfortunately, with an apprenticeship that starts out with your new boss forgetting to pick you up at the train station and then you accidentally pepper-spraying him because you think he's attacking someone, what can you really expect? The way the relationship evolves is really about each protagonist coming to understand themselves more, and the people around them. (The people aroud Portia and Tavish, by the way, are wonderful and I love them and wish they had their own books—even the ones already or about to get married.) But Portia can get hyperfocused on a project, and her research on the history of the building Tavish inherited at age 18 leads them to a startling discovery: Tavish's birth father, who he never met, was a duke. The last thing Tavish wants is to have to interact with the aristocracy, but he could do so much for the people with the power. Oh Tavish. Sweet, gruff Tavish.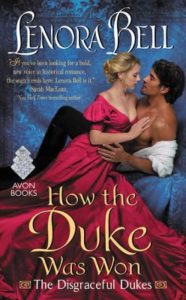 How the Duke Was Won
Lenora Bell
If you've followed me long enough, you know that romance-by-deception is one of my limits. Not a hard limit, but it has to be really fascinating for me to move past it. And when Jenn Northington tells you that this is like My Fair Lady meets Willy Wonka, you push on that limit a bit. James, Duke of Harland, is just out of mourning clothes and in search of a wife. He has not really been prepared for the life of a duke, but after the deaths of his father and brother, he's the one in charge. He's also a chocolate magnate and wants to fight for the abolition of slavery. He's come back from Trinidad with a Venezuelan business partner posing as a cook and a daughter of mixed racial heritage who is obsessed with her castanets. He invites four women to his estate to vie for his hand, so that he can have a mother who will treat his darling Flor right and a father-in-law who can help him lower tariffs for cocoa farms that don't use slave labor.
And we haven't even gotten to Charlene, the daughter of one of those potential fathers-in-law and a courtesan. When her half-sister's mother shows up at her house late in the night offering her the means to get out of Covent Garden if she just…pretends to be her half-sister for a few days, Charlene can't pass it up. She could get her sister the education she needs, help people like the young, hopeless women she sees every day, escape the heartless men who just want to own her. What's deceiving one heartless aristocrat to never again have to evade the rest?
And thus begins a reluctant duke—who owns an actual chocolate factory—challenging contenders to make it through unscathed.
I know, right?
(Also, I might have made hot cocoa when I finished this. Yeah, it's summer, but I live in Arizona and indoor temperatures lie somewhere between arctic and the surface of Saturn.)
Who are your favorite dukes?
New Releases (as in they're all out now!)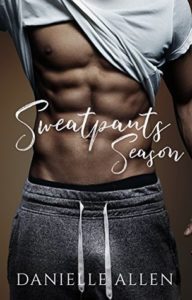 Sweatpants Season by Danielle Allen (hoo doggy that cover)
Marriage of Unconvenience by Chelsea M. Cameron
Covet by Rosanna Leo
Surprise Baby, Second Chance by Therese Beharrie
Bad Reputation by Stefanie London
Last First Kiss by Nicole Falls
The Good Luck Charm by Helena Hunting (I'll be honest, I forgot she had a new book coming out!)
Down With Love by Kate Meader (Divorce lawyer+wedding planner? Yes please!)
Just to Keep You Satisfied by Sam J.
As usual, catch me on Twitter @jessisreading or Instagram @jess_is_reading, or send me an email at jessica@riotnewmedia.com if you've got feedback or just want to say hi!