Hey YA Readers: Let's talk Frankenstein.
"What's Up in YA?" is sponsored by Nyxia and Nyxia Unleashed by Scott Reintgen from Penguin Random House Books.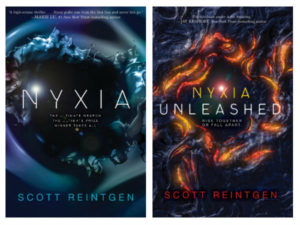 Emmett Atwater isn't just leaving Detroit; he's leaving Earth. Why the Babel Corporation recruited him is a mystery, but the number of zeroes on their contract has him boarding their lightship and hoping to return to Earth with enough money to take care of his family. Forever. Before long, Emmett discovers that he is one of ten recruits, all of whom have troubled pasts and are a long way from home. Now each recruit must earn the right to travel down to the planet of Eden—a planet that Babel has kept hidden—where they will mine a substance called Nyxia that has quietly become the most valuable material in the universe. But Babel's ship is full of secrets. And Emmett will face the ultimate choice: win the fortune at any cost, or find a way to fight that won't forever compromise what it means to be human.
---
This year marks the 200th anniversary of Mary Shelley's Frankenstein. A perennial classic of high school classrooms, the anniversary has meant that the book — and Shelley herself — have become topics of interest in the YA world.
Here's a look at some of the books that have hit shelves for YA readers or will hit shelves for YA readers before the year is out that all play homage to Mary and/or her monster.
By virtue of the narrowly focused topic, it should be noted that this list is very white. There is Frankenstein in Baghdad by Iraqi writer Ahmed Saadawi, which came out in January this year for adult readers that would likely be perfect for YA readers who want a more inclusive take on the tale.
Descriptions are from Amazon.
Elizabeth Lavenza hasn't had a proper meal in weeks. Her thin arms are covered with bruises from her "caregiver," and she is on the verge of being thrown into the streets . . . until she is brought to the home of Victor Frankenstein, an unsmiling, solitary boy who has everything–except a friend.
Victor is her escape from misery. Elizabeth does everything she can to make herself indispensable–and it works. She is taken in by the Frankenstein family and rewarded with a warm bed, delicious food, and dresses of the finest silk. Soon she and Victor are inseparable.
But her new life comes at a price. As the years pass, Elizabeth's survival depends on managing Victor's dangerous temper and entertaining his every whim, no matter how depraved. Behind her blue eyes and sweet smile lies the calculating heart of a girl determined to stay alive no matter the cost . . . as the world she knows is consumed by darkness.
Junji Ito meets Mary Shelley! The master of horror manga bends all his skill into bringing the anguished and solitary monster and the fouler beast who created him with the brilliantly detailed chiaroscuro he is known for.
Pairing free verse with over three hundred pages of black-and-white watercolor illustrations, Mary's Monster is a unique and stunning biography of Mary Shelley, the pregnant teenage runaway who became one of the greatest authors of all time.
Legend is correct that Mary Shelley began penning Frankenstein in answer to a dare to write a ghost story. What most people don't know, however, is that the seeds of her novel had been planted long before that night. By age nineteen, she had been disowned by her family, was living in scandal with a married man, and had lost her baby daughter just days after her birth. Mary poured her grief, pain, and passion into the powerful book still revered two hundred years later, and in Mary's Monster, author/illustrator Lita Judge has poured her own passion into a gorgeous book that pays tribute to the life of this incredible author.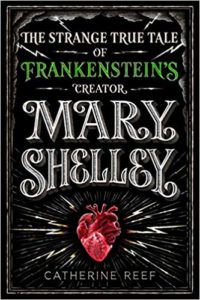 The Strange True Tale of Frankenstein's Creator: Mary Shelley by Catherine Reef
The story of Frankenstein's creator is a strange, romantic, and tragic one, as deeply compelling as the novel itself. Mary ran away to Lake Geneva with the poet Percy Bysshe Shelley when she was just sixteen. It was there, during a cold and wet summer, that she first imagined her story about a mad scientist who brought a corpse back to life. Success soon followed for Mary, but also great tragedy and misfortune.
Catherine Reef brings this passionate woman, brilliant writer, and forgotten feminist into crisp focus, detailing a life that was remarkable both before and after the publication of her iconic masterpiece. Includes index.
And if you'd like more takes on the Frankenstein tale, some other YA titles you'll want to know about include:
Boy Robot by Simon Curtis
Cadaver and Queen by Alisa Kwitney
A Cold Legacy by Megan Shepherd
This Dark Endeavor by Kenneth Oppel (series)
Dr. Frankenstein's Daughters by Suzanne Weyn
Henry Franks by Peter Adam Saloman
Hideous Love: The Story of the Girl Who Wrote Frankenstein by Stephanie Hemphill
Man Made Boy by Jon Skovron
Spare and Found Parts by Sarah Maria Griffin
Steampunk: Mary Shelley's Frankenstein by Zdenko Basic
Teen Frankenstein: High School Horror by Chandler Baker
This Monstrous Thing by Mackenzi Lee
____________________
Thanks for hanging out and we'll see you again on Thursday. In the mean time, make sure you nominate your favorite 2018 YA books so far and the ones you wish had seen more attention. I'll round those up for next Monday's newsletter.