This edition of Today in Books is sponsored by One of NPR's Best Books of the Year, Spoonbenders by Daryl Gregory, new in paperback from Vintage Books.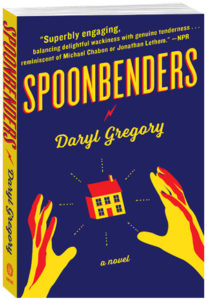 ---
Harry Potter and the Cursed Child Sets West Coast Premiere
The Tony Award-winning play will premiere on the West Coast at the historic Curran in San Francisco. The play premiered in New York this year; it's in its third year of performances in London, and a Melbourne, Australia production is planned for early 2019. Details on dates, purchasing tickets, and casting will be announced in the coming months.
Royal Society of Literature Works To Address Historical Biases
The Royal Society of Literature just appointed 40 new writing fellows under the age of 40. The RSL decided to bring in a new generation of fellows through their 40 Under 40 initiative in order to step away from its "overwhelmingly white, male, metropolitan and middle class" history. The names chosen were almost three-quarters female, with 30% from black and minority ethnic backgrounds. Prior to the initiative, only three of the 523 fellows were under 40 (the article doesn't mention how many were from marginalized communities, but I can guess the number).
Midnight's Children Set As Netflix TV Series
Netflix is adapting Salman Rushdie's postcolonial novel of magical realism, Midnight's Children, for a series. The book about India's transition to independence was previously adapted as a Canadian-British film directed by Deepa Mehta in 2013. No word yet on a release date or casting.