Just when we thought we were out of it for a while, we got pulled back in.
I'm talking about stupidity, my friends.
News and Useful Links
It's been quiet in the world of all the various hashtag-name-gate weirdness we've been experiencing for the past month or two, but romancelandia couldn't just live in this lovely void of new releases and bingo cards. No.
---
Sponsored by Kensington Publishing Corp.
It's summer wedding season and love is in the air. The moment for "I do" has arrived, and all eyes are on the bride…until she turns heel, hijacks a motorcycle, and speeds out of town! Get the scoop on the juiciest wedding gossip of the year when you pick up a copy of A WEDDING ON BLUEBIRD WAY, a collection of intertwined wedding romances by New York Times bestselling authors Lori Wilde, Janet Dailey and authors Allyson Charles and Stacey Keith. Love is in the air at this wedding, just clearly not between the bride and groom! To find out the rest, you'll have to RSVP to A WEDDING ON BLUEBIRD WAY.
---
This time, the publishers had to be the ones to step right in it. Again.
Can we not? You might recall the episode of When In Romance where Trisha and I basically came to the conclusion that people can like what they like and write what they write, but that still doesn't mean I will applaud you when you throw yet another "good-hearted Nazi" novel at me. I could write tracts and tracts on what that makes any marginalized person think you as a writer or reader might be saying about the concept of Just Following Orders but…now is definitely not the time to be releasing that kind of book. We've already got plenty of shit to deal with in the reality we were given. Let's do the right kind of adversity, yeah? (And this conversation on twitter definitely got me thinking.)(And also this one.)
Also, Jen did some interesting work looking into books that are reviewed by professional publications.
In happier news, Amanda Bouchet is writing a serial novel on Frolic (seriously, if you're not checking out every single thing on Frolic, like Alyssa Cole's horoscope recommendation lists, you need to set aside several hours to just wander through it). And speaking of that horoscope list, I definitely need to read Cinnamon Blade.
Do you follow Love in Panels? They just did a queer recommendation list of The Ripped Bodice's Summer Bingo, and it's pretty damn awesome.
Because I got a kick out of it, I'll also mention that romance fans LOVE them some Richard Armitage, and nobody is going to insult their beloved John Thornton. There have been so many "Look back at me" GIFs on Twitter the last couple days, and I'm going to have to hunker down with Netflix soon.
(And of course, I will totally recommend Ocean's 8 as a very much not romance but absolutely delightful film.)
The novellas from Hamilton's Batallion are being sold separately real soon, and OMG have you seen the cover of The Pursuit Of?!
Also. Also! Donna Hill announced a new book! A historical romance! But it's not supposed to come out until 2020 🙁
Deals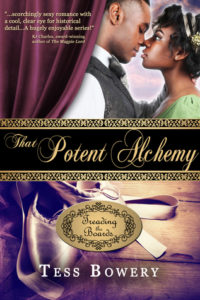 Tess Bowery's Treading the Boards trilogy, including the gorgeous That Potent Alchemy, is back in print, and the novels are 3.99 each.
By the Currawong's Call, an Australian historical romance offering by Welton B. Marsland, is 99 cents.
Talia Hibbert's Damaged Goods is out today, and was 99 cents last I looked!
Over on Book Riot
Erin shared some romances she's excited about this summer.
If you really want to revisit the best of #cockygate, Alex pulled together a nice little rundown, including some bits of the hearing transcript and lots of book recs. None of them are by Fallacious Hardware.
College romance, you say? Yes please. (There goes my book-buying budget for the month.)
And there's still time to enter that giveaway! 500 dollars to the bookstore of your choice? Who doesn't want that? (The answer? Me. A, because I'm not eligible to win it so I keep telling myself that B, my house cannot handle that many books.)
Recs!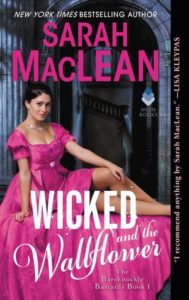 Wicked and the Wallflower (June 19)
Sarah MacLean
I have to interrupt my originally planned recommendation list to just tell you all about this book. I had Feelings and I'm still not sure about all of them, but I want you to read the book and have those Feelings with me (and share them with me if you're done).
In this series opener (new series, but connected to the previous one), Felicity Faircloth (familiar if you read The Day of the Duchess) has been cast out by her friends and seeks a husband at her mother's insistence. Her only requirement? A pulse. But a dukedom would be nice, and the handsome, reclusive Duke of Marwick has even more than that. The only thing in Felicity's way, the handsome man she only knows as Devil, who tells her he can help her acquire and keep her desired duke.
If only he didn't have an agenda of his own. Or a terrible attraction to the woman he's trying to use for his own agenda.
I love Felicity and Devil so much. Devil and his brother Witt are particularly precious. They might be the biggest badass villains in Covent Garden, but they still give kids lemon ices. (I know what you're thinking: Criminal With The Heart Of Gold is totally not your thing and you've said that, Jess. But Felicity. She's so wonderful. And she deserves someone who cares about her as much as Devil does.)
Okay, back to our regularly scheduled programming.
This second week in Pride Month, let's talk about some romances by and about trans and gender nonconforming folks!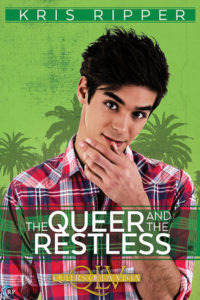 The Queer and the Restless by Kris Ripper – mid-series m/f romance between a trans man and a cis woman. (by a genderqueer author)
Coffee Boy by Austin Chant – m/m romance between a young trans man and his cis, bi colleague. (by a trans author)
Syncopation by Anna Zabo – first in a series m/m romance between two rockers. (by a genderqueer author)
The Doctor's Discretion by EE Ottoman – historical m/m romance featuring a white trans (intersex?) man and a black cis man. (by a trans author)
Hold Me by Courtney Milan – not #ownvoices but so well done; features a m/f non-white interracial couple!
Roller Girl by Vanessa North – (also not #ownvoices) f/f romance between a trans woman and a cis woman who do roller derby.
Tailor-Made by Yolanda Wallace – (also not #ownvoices) f/f romance between a cis woman and a gender nonconforming androgynous sometimes female identifying person. (by a queer author)
What are your favorite romances by trans and genderqueer authors? Let me know!
Looking for more books than what's here? Here are a couple resources to find more:
New and Upcoming Releases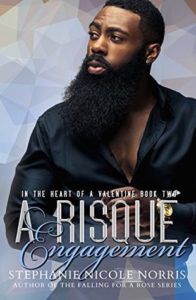 A Risqué Engagement by Stephanie Nicole Norris (THAT BEARD, MY HEART)
Playing Fastball by Rachelle Ayala
In Bed with the Beast by Tara Sivec
When in Barcelona by Avery Aston
The Varlet and the Voyeur by LH Cosway and Penny Reid
Sparks Like Ours by Melissa Brayden
Inside Darkness by Hudson Lin
When Katie Met Cassidy by Camille Perri (June 19)
Behind These Doors by Jude Lucens (June 22)
As usual, catch me on Twitter @jessisreading or Instagram @jess_is_reading, or send me an email at jessica@riotnewmedia.com if you've got feedback or just want to say hi!