This edition of Today in Books is sponsored by Exit Strategy by Charlton Pettus, new from Hanover Square Press.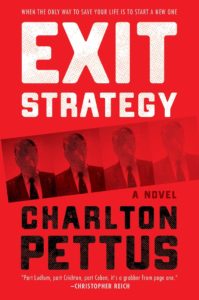 ---
Guillermo del Toro's Scary Stories to Tell in the Dark
Guillermo del Toro's passion project, an adaptation of Scary Stories to Tell in the Dark, got financial backing and is go. André Øvredal (The Autopsy of Jane Doe) will direct, and del Toro will co-write and produce. I'm guessing that everyone who remembers the Alvin Schwartz books (and the original illustrations) will either be impatient to see the adaptation, or choose sleep and avoid it like the plague (#teaminsomnia).
Reese Witherspoon's New Lifestyle Book
She of the popular book club and anticipated Little Fires Everywhere adaptation is penning a book in addition to championing them. Witherspoon said Whiskey in a Teacup is "all about Southern living and my Southern heritage, and how that sort of informs pretty much everything I do, from what I eat, to how I decorate, to how I celebrate family traditions, even how I do my hair."
Laundering With Fake Books
An author postulated that fraudsters could be using fake books produced through Amazon's self-publishing arm, CreateSpace, to launder money. Business writer Patrick Reames received a 1099 claiming that CreateSpace paid him tens of thousands of dollars for what turned out to be a highly priced book of gibberish published under his name with his social security number. Reames, who says the book was published fraudulently, has so far been unable to get much response, or a revised 1099, from Amazon. Amazon has removed a number of similar titles.
And don't forget to enter to win 15 of the year's best mysteries so far!