Happy Monday, YA Readers!
"What's Up in YA?" is sponsored by Summer Constellations by Alisha Sevigny from KCP Loft.
When Julia's mother announces that she might be selling the family's campground to a real estate developer, Julia is crushed. How could she stand to leave her childhood home? Then Julia finds an unlikely ally — the developer's son, Nick — who wants to help her family raise the money they need to keep the campground running. Can Julia trust him to conspire against his own father? And could she ever trust him with her heart? This tender story reminds readers of summer's possibilities … and how sometimes love is written in the stars.
---
April is Sexual Assault Awareness Month in the US, and one of the things about months like this is that there's often a big push for awareness when the month begins, but the enthusiasm and support peter out near the end of the month. It's natural, given how much our attention is diverted daily — not to mention the things that push for our attention over the course of a month.
I thought it'd be worth putting together a short booklist to offer up recent (within the last year) and forthcoming YA titles which explore aspects of rape, sexual assault, and rape culture. These are books that will provide even more depth and nuance to the books available now or which have become touchstones in the YA category on these topics. Both fiction and nonfiction are included.
Since I've not had the chance to read each of these, I've pulled descriptions from Goodreads, along with publication dates. It's worth mentioning: be aware that the content in some of these books may be triggering for some readers.
For the past eight years, sixteen-year-old Emilia DeJesus has done her best to move on from the traumatic attack she suffered in the woods behind her elementary school. She's forced down the memories–the feeling of the twigs cracking beneath her, choking on her own blood, unable to scream. Most of all, she's tried to forget about Jeremy Lance, the boy responsible, the boy who caused her such pain. Emilia believes that the crows who watched over her that day, who helped her survive, are still on her side, encouraging her to live fully. And with the love and support of her mother, brother, and her caring boyfriend, Emilia is doing just that.
But when a startling discovery about her attacker's identity comes to light, and the memories of that day break through the mental box in which she'd shut them away, Emilia is forced to confront her new reality and make sense of shifting truths about her past, her family, and herself.
Honor Code by Kiersi Burkhart (Available now)
Sam knows how lucky she is to be part of the elite Edwards Academy. As she dreams of getting into Harvard one day, she's willing to do anything to fit in and excel at the private high school. Even if that means enduring hazing, signing up for a sport she hates, and attending the school dance with an upperclassman she barely knows.
But when she learns the high cost of entry, will Sam be willing to bury the worst night of her life in order to "keep the community sacred"? As the line between truth and justice blurs, Sam must find out for herself what honor really means.
The numbers are staggering: nearly one in five girls ages fourteen to seventeen have been the victim of a sexual assault or attempted sexual assault. This is the true story of one of those girls.
In 2014, Chessy Prout was a freshman at St. Paul's school, a prestigious boarding school in New Hampshire when a senior boy sexually assaulted her as part of a ritualized game of conquest. Chessy bravely reported her assault to the police and testified against her attacker in court. Then, in the face of unfathomable backlash from her once trusted school community, she shed her anonymity to help other survivors find their voice.
This memoir is more than an account of a horrific event; it takes a magnifying glass to the institutions that turn a blind eye to such behavior and a society that blames victims rather than attackers, while offering real, powerful solutions to upending rape culture as we know it today.
Prepare to be inspired by this remarkable young woman and her story of survival, advocacy, and hope in the face of unspeakable trauma.
Three misfits come together to avenge the rape of a fellow classmate and in the process trigger a change in the misogynist culture at their high school transforming the lives of everyone around them in this searing and timely story.
Who are the Nowhere Girls?
They're everygirl. But they start with just three:
Grace Salter is the new girl in town, whose family was run out of their former community after her southern Baptist preacher mom turned into a radical liberal after falling off a horse and bumping her head.
Rosina Suarez is the queer punk girl in a conservative Mexican immigrant family, who dreams of a life playing music instead of babysitting her gaggle of cousins and waitressing at her uncle's restaurant.
Erin Delillo is obsessed with two things: marine biology and Star Trek: The Next Generation, but they aren't enough to distract her from her suspicion that she may in fact be an android.
When Grace learns that Lucy Moynihan, the former occupant of her new home, was run out of town for having accused the popular guys at school of gang rape, she's incensed that Lucy never had justice. For their own personal reasons, Rosina and Erin feel equally deeply about Lucy's tragedy, so they form an anonymous group of girls at Prescott High to resist the sexist culture at their school, which includes boycotting sex of any kind with the male students.
Told in alternating perspectives, this groundbreaking novel is an indictment of rape culture and explores with bold honesty the deepest questions about teen girls and sexuality.
How much can you tell about a person just by looking at them?
Janna Yusuf knows a lot of people can't figure out what to make of her…an Arab Indian-American hijabi teenager who is a Flannery O'Connor obsessed book nerd, aspiring photographer, and sometime graphic novelist is not exactly easy to put into a box.
And Janna suddenly finds herself caring what people think. Or at least what a certain boy named Jeremy thinks. Not that she would ever date him—Muslim girls don't date. Or they shouldn't date. Or won't? Janna is still working all this out.
While her heart might be leading her in one direction, her mind is spinning in others. She is trying to decide what kind of person she wants to be, and what it means to be a saint, a misfit, or a monster. Except she knows a monster…one who happens to be parading around as a saint…Will she be the one to call him out on it? What will people in her tightknit Muslim community think of her then?
Things We Haven't Said is a powerful collection of poems, essays, letters, vignettes and interviews written by a diverse group of impressive adults who survived sexual violence as children and adolescents. Structured to incorporate creative writing to engage the reader and informative interviews to dig for context, this anthology is a valuable resource of hope, grit and honest conversation that will help teens tackle the topic of sexual violence, upend stigma and maintain hope for a better future.
Tradition by Brendan Kiely (May 1)
Prestigious. Powerful. Privileged. This is Fullbrook Academy, an elite prep school where history looms in the leafy branches over its brick walkways. But some traditions upheld in its hallowed halls are profoundly dangerous.
Jules Devereux just wants to keep her head down, avoid distractions, and get into the right college, so she can leave Fullbrook and its old-boy social codes behind. She wants freedom, but ex-boyfriends and ex-best friends are determined to keep her in place.
Jamie Baxter feels like an imposter at Fullbrook, but the hockey scholarship that got him in has given him a chance to escape his past and fulfill the dreams of his parents and coaches, whose mantra rings in his ears: Don't disappoint us.
When Jamie and Jules meet, they recognize in each other a similar instinct for survival, but at a school where girls in the student handbook are rated by their looks, athletes stack hockey pucks in dorm room windows like notches on a bedpost, and school-sponsored dances push first year girls out into the night with senior boys, the stakes for safe sex, real love, and true friendship couldn't be higher.
As Jules and Jamie's lives intertwine, and the pressures to play by the rules and remain silent about the school's secrets intensify, they see Fullbrook for what it really is. That tradition, a word Fullbrook hides behind, can be ugly, even violent. Ultimately, Jules and Jamie are faced with the difficult question: can they stand together against classmates—and an institution—who believe they can do no wrong?
____________________
Cheap Reads…
Grab these books for under $3 in ebook format before the calendar flips over to May (aka: do it today).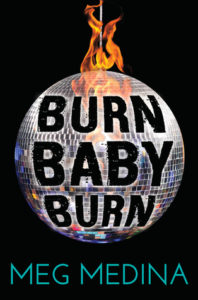 Burn Baby Burn by Meg Medina
The Crown's Game by Evelyn Skye
The Evaporation of Sofi Snow by Mary Weber
Exo by Fonda Lee
Get It Together, Delilah by Erin Gough
If I Ever Get Out of Here by Eric Gansworth
A Spy In The House by YS Lee
The Star-Touched Queen by Roshani Chokshi
Tell Me Three Things by Julie Buxbaum
Wild Swans by Jessica Spotswood
Wonder Woman: Warbringer by Leigh Bardugo
____________________
Grab a good read or ten, and we'll see you again next week with a very special interview.
–Kelly Jensen, @veronikellymars on Twitter and Instagram.
Currently reading Down and Across by Arvin Ahmadi