This edition of Today in Books is sponsored by My Lady's Choosing: An Interactive Romance Novel by Larissa Zageris and Kitty Curran, published by Quirk Books.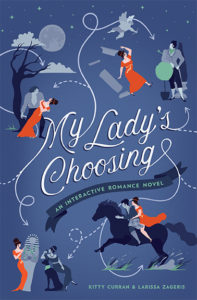 ---
Nobel Prize In Literature Shaken By #MeToo Resignations
Three members of the Swedish Academy, which hands out the Nobel Prize in Literature, resigned in light of sexual harassment allegations made by numerous women against an unnamed man who has "strong ties to the Academy." The resignations came after the Academy split ties and funding from the man, and after a meeting to discuss a press statement planned for release next week. Because membership in the Academy is for life and members who quit aren't replaced until after their death, the Academy's permanent secretary is looking at revising those rules.
What Happened To VA Teens Sentenced To Read?
Last year, a group of Virginia teenagers were sentenced to read books after defacing a building with hate messages. The building was the historical Ashburn Colored School. The New York Times caught up with one of the sentenced teens, who seems to have reflected on the damage inflicted post-sentencing. "I was wrong, it means a lot to people who were affected by them. It reminds them of the worst things, losing family members and friends," said one of the teens who read 12 Years a Slave, among other books. Click here to read about the reactions from the community and the authors.
New Online Spanish Language Store Coming To The U.S.
Libros in Español launches on April 15 with a couple thousand physical Spanish language titles. Filipe Silva, the site's founder and former associate director of Latin American and Spanish-language sales at Penguin Random House, will be selecting all titles for sale on the site. Silva also told Publisher's Weekly that Libros in Español will serve as a literary agent for Hispanic U.S. authors of works in Spanish starting this autumn.