Hey YA Readers!
Let's catch up on the latest news and happenings.
"What's Up in YA" is sponsored by As She Fades by Abbi Glines.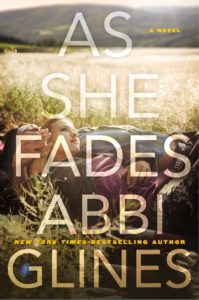 On the night of her high school graduation, Vale McKinley and her boyfriend Crawford are in a terrible car accident that leaves Crawford in a coma.
Slate Allen, a college friend of Vale's brother, has been visiting his dying uncle at the same hospital. When he and Vale meet, she can't deny the flutter of an illicit attraction. She tries to ignore her feelings, but she's not immune to Slate's charm. Slowly, they form a cautious friendship.
Then, Crawford wakes up . . . with no memory of Vale or their relationship. Heartbroken, Vale opts to leave for college and move on with her life. Except now, she's in Slate's territory, and their story is about to take a very strange turn.
---
It seems like every time I collect the latest news in YA worth sharing, there are a ton of adaptations. This week's collection won't be different — but they're all so good that it's hard not to get excited about what we'll soon feast our eyes upon.
Cheap Reads…
Snag these YA books in eform for not a lot of dough:
You can read Leigh Bardugo's take on Wonder Woman for $2.
Pick up Jessica Spotswood's first contemporary YA novel Wild Swans for $2.50.
The fantasy novel The Falconer by Elizabeth May is a whopping 60 cents.
____________________
Thanks for hanging out this week and we'll meet you back here again soon.