This edition of Today in Books is sponsored by Tomorrow by Damian Dibben, new from Hanover Square Press.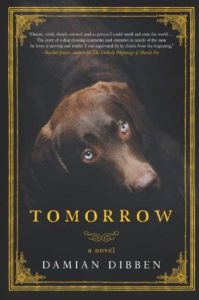 ---
A Comics Anthology Benefiting The Vegas Shooting Survivors
Image Comics announced a comic anthology about the trauma of gun violence in America, titled, Where We Live: A Benefit for the Survivors in Las Vegas. The proceeds from sales of the anthology will go towards the Las Vegas Victim Fund's official GoFundMe campaign, which supports survivors of the deadliest mass shooting in modern U.S. history. Contributors (there are many) include Gail Simone, Neil Gaiman, Amy Chu, and Kelly Sue DeConnick, and the title will be out May 30.
Ursula K. Le Guin's Electronica Album
No joke. Ursula K. Le Guin, author of The Left Hand of Darkness and so many more science fiction classics, made an electronica album. The musical work was created with electronic musician and composer Todd Barton to accompany her book Always Coming Home. The album was reissued after Le Guin's death in January, and you can listen to it here.
Bookseller Convicted Of Stealing Rare Harry Potter Copy
A British bookseller was found guilty of stealing a copy of Harry Potter And The Goblet Of Fire, signed by JK Rowling. Rudolf Schonegger swapped the rare edition worth £1,675 (almost $2,400) with another book; he was arrested after booksellers who had made purchases from Schonegger recognized him from CCTV images.