This edition of Today in Books is sponsored by The Neighbors by Hannah Mary McKinnon.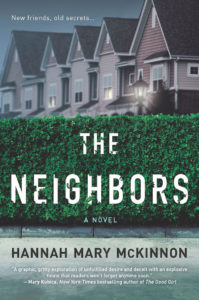 ---
LibraryThing Acquires Litsy
An interesting development from the world of bookish apps. LibraryThing, a provider of library software and social cataloging app, has acquired Litsy, an app marketed as "Instagram for book lovers." So far, it doesn't sound like much will change on either platform, although LibraryThing's press release mentions a plan to upgrade Litsy's book data using LibraryThing information, and an intention to give Litsy members access to LibraryThing's Early Reviewer program, connecting them with publishers for ARCs.
Racism And The Dearth Of Diversity In Romance
The Guardian published a piece about the recent spate of stories circling the Romance genre, particularly those regarding racism and a decline in works by writers of color from publishers of the genre. One of the telling and damaging stories related an interaction between a romance writer of color and a former Riptide editor, where the editor wrote in an email to the writer: "We don't mind POC But I will warn you – and you have NO idea how much I hate having to say this – we won't put them on the cover, because we like the book to, you know, sell :-(." The piece is worth a read for a broader picture of the numerous issues that have surfaced.
John Oliver Challenges Mike Pence With Children's Book
The Last Week Tonight host turned his attention to the U.S. vice president, reviewing Pence's ultra-conservative views on issues such as abortion rights, homosexuality, same-sex marriage, gays and women in the military, and bringing up the Pence's children's book about their pet rabbit, Marlon Bundo. In response to the book's release, Oliver released his own book, titled A Day In The Life Of Marlon Bundo, about a White House rabbit who falls in love with a rabbit named Wesley. The rabbits marry, despite bigotry.