This edition of Today in Books is sponsored by Dynamite Entertainment, publishers of Jim Butcher's Dog Men.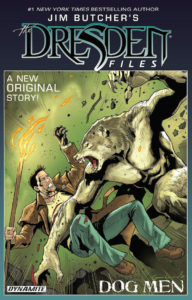 ---
Jeff Daniels Will Play Atticus Finch In Broadway Adaption Of TKAM
And adults have been cast in the roles of the story's children. We're talking about Aaron Sorkin's Broadway adaptation of Harper Lee's To Kill a Mockingbird. Jeff Daniels has been cast as Atticus Finch, Scout will be played by Celia Keenan-Bolger, and Jem will be played by Will Pullen. Tony winner Bartlett Sher will direct the play, which begins previews November 1, with the official opening on December 13 at a theater to be announced.
A Reimagined Book Expo
The organizers of Book Expo America are adding new features to the event aimed at upping the event's value for booksellers. They'll be putting in place programs to increase booksellers' interactions with editors and publicists, and initiatives to make the show more affordable. "Editor's hours" to facilitate conversations between booksellers and editors in publishers' booths will be included in the program (in addition to the ABA's Meet the Editors program), as well as a publicist "speed dating" event. Find more information on the reimagined Book Expo here.
Black Panther Reaches $25.2 million At Thursday Box Office
Marvel's Black Panther grossed $25.2 million in ticket sales from domestic Thursday preview shows in the U.S. and Canada. Those numbers set a February record, according to studio estimates, nearly doubling the previous record holder, Deadpool. It's also the second-highest number ever for a Marvel film, behind Avengers: Age of Ultron. Today is the film's official release date, and it's predicted to collect as much as $180 million over the President's Day weekend.
And don't forget to head over to our Instagram account to enter to win $500 of Penguin Clothbound classics!