This edition of Today in Books is sponsored by Dara Horn's Eternal Life, on sale now from W. W. Norton.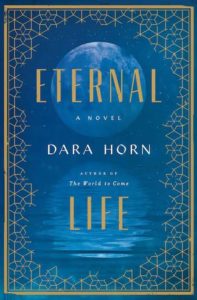 ---
PEN America Announces Literary Awards Finalists
PEN America announced the 2018 PEN America Literary Awards finalists. Finalists include No Time to Spare by Ursula K. Le Guin, White Tears by Hari Kunzru, and Sour Heart by Jenny Zhang. Nearly $315,000 will be awarded to writers and translators whose works were published in 2017 and span fiction, nonfiction, poetry, biography, essays, science writing, sports writing, translation, and more. Check out the complete list of finalists here.
Margaret Atwood's MaddAddam Trilogy Will Be Adapted
Margaret Atwood's MaddAddam Trilogy will be adapted for television, courtesy of Paramount TV. The story is set in a post-apocalyptic world and follows three people who come together as scientists begin genetically engineering humans. David Kanter (Philip K. Dick's Electric Dreams) and Linda Carlson (Five Came Back) will produce the series. A network is not yet attached.
Incoming Dr. Seuss Cartoons
The Warner Animation Group signed a deal with Dr. Seuss Enterprises giving them exclusive rights to produce film and television adaptations of Seuss's children's books and characters. A Green Eggs and Ham television adaptation, an older project co-executive-produced by Ellen DeGeneres, will air on Netflix later this year. And the first project in the exclusive partnership will be a feature-length animated adaptation of the The Cat in the Hat.
Don't forget–you could win your very own library cart! Enter here.