How goes, KBers? I was feeling a bit down earlier this week, after getting some disappointing news about an author I hadn't read but who had some potential, but books, amIrite?
---
Sponsored by Penguin Books
A quirky collection of illustrated vignettes about love in its many forms. With simple and elegant illustrations, You & Me & Why We Are in Love tells us about love in all its forms, not concerning itself with who or what you love, but above all, how you love. There's the requited love that Daisy has for nature, and then there's David who buys flowers for his wife of twenty years, not to mention Jean, the punk rocker who is secretly looking for a girl who is just like his grandmother.
---
New stuff
This thread is a couple weeks old now, but will never get old. Representation is hella important, and not just to the people who are part of those diverse groups.
Your regular reminder that Beverly Jenkins, Nora Roberts Lifetime Achievement Award recipient and veteran romance author, is still running a GoFundMe to get the film adaptation of Deadly Sexy off the ground.
Have you tried out Book+Main? They recently sent out a guide to making the best of it; could definitely be useful for potential power-users!
We all love foodie romances featuring a chef who thinks he's more Hell's Kitchen, but is more Master Chef Junior, right?
Want some bonus scenes? Check out this hot one from Alexis Daria and some fun from Tessa Dare!
I recently met Callalily on the interwebs and her new site, Sense and Disability, is pretty awesome.
Holy Jesus this is a lot of work. But we're all better for it. 
HE DID IT. He came out to the world (in more ways than one) and we're all fucking proud. I hate why he felt he had to do it, but I hope he doesn't regret it. And now we have a face to go with the final two Five Boroughs novels, which have both been announced!
Deals
If you're lolling about in Forbidden Hearts limbo, Alisha Rai's Falling for Him is 99 cents.
Under Her Skin by Adriana Anders is too!
If you're a preordering kind of person, Exposed, a new anthology featuring works by Santino Hassell, Robin Covington, Tiffany Reisz, and more is available for that same 99 cents!
Darynda Jones's First Grave on the Right is 2.99 right now.
Over on Book Riot
Dudes. DUDES. When in Romance. It's a thing that lives. (Listen to Episode 0!)
How did you learn about sex? Probably not this way. 
We're giving away a library cart! Enter to win here!
Recs!
This week, let's talk about two books that take very different approaches to the fling trope. Two people have strong sexual chemistry, but their time together is limited. They're not going to risk their hearts for some hot sex, but…well, you know how it goes.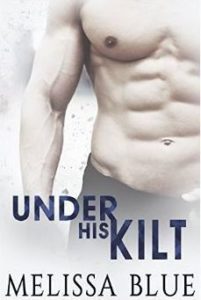 Under His Kilt
Melissa Blue
Somehow I ended up with two copies of this book; I must have requested an ARC or something and let it get buried. But I got a fresh copy (for free) on Amazon, and was in the mood to read it pretty much immediately. Fair warning: there aren't actually any kilted men in this story, which is sadness upon sadness. But there is a delicious Scot with a delicious accent, and delicious…other things.
Jocelyn's museum is hosting a traveling exhibit for which Ian is overseeing the installation. Both love their work, and are good at their jobs. Jocelyn is turning thirty soon, and wants to ring out her twenties with a bang. Literally, if she can help it. But she doesn't see that happening with Ian, who seems to be excessively professional. But one conversation changes all that, and the two enter into an arrangement that allows for some fantasy on both ends, with a set end date—when it's time for Ian to move on after the exhibit's installation. The book is brief, but packs a punch. And there are more!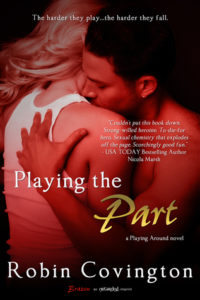 Playing the Part
Robin Covington
Romance novelist Piper James is excited that one of her books is being adapted to film. What she's less excited about is the fact that she's been called upon to be a consultant to the film's leading man, an action hero who is trying to break into more dramatic roles. The only problem? He's having a little trouble with bringing his character to life in the more romantic scenes. Piper is willing to help him in order to stay in good graces with her publishers, with whom she's still on thin ice after a bit of drama the year before. And when she and Mick, the biracial ball of hotness she's been brought in to tutor in romance, immediately hit it off, she's open to a repeat and continued performance—as long as it stays out of the press and ends when she heads back to New York. Well. As we know, in Hollywood, nothing ever goes as planned.
If you're looking for more, there's also One True Pairing by Cathy Yardley, which I think I've talked about here before. That one also has another favorite trope: fake relationship. So great.
What are your favorite fling-turned-more stories?
New and Upcoming Releases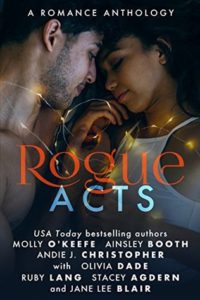 Rogue Acts anthology
When Love Calls by Sharon Cooper
Twice in a Lifetime by Jodie Griffin
My Last Love Story by Falguni Kothari
Game of Hearts by Cathy Yardley (in the same series as One True Pairing!) (Jan 30)
Tempest by Beverly Jenkins (Jan 30)
The Wedding Date by Jasmine Guillory (Jan 30)
That's good for a week, right? As usual, catch me on Twitter @jessisreading or Instagram @jess_is_reading, or send me an email at jessica@riotnewmedia.com if you've got feedback or just want to say hi!