It's the last Kissing Books of 2017 and I'm gonna do something different! Let's just ignore the world for a little bit and look back on a year of Romancelandia.
---
Sponsored by Houghton Mifflin Harcourt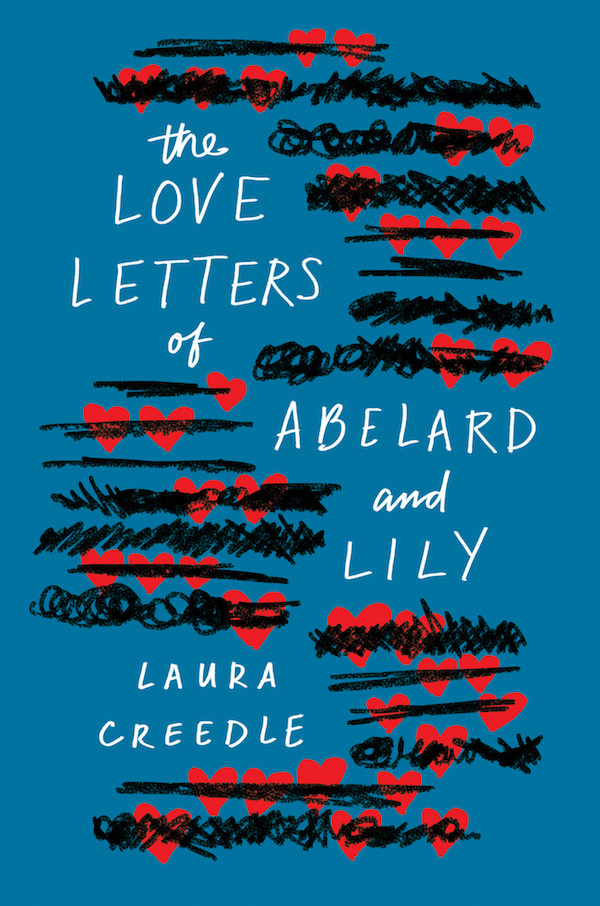 THE LOVE LETTERS OF ABELARD AND LILY is a beautiful teen debut from exciting new talent Laura Creedle, about two unbelievably lovable, neurodivergent teens. Lily has severe ADHD, and Abelard has Asperger's–find romantic inspiration in medieval literature. But can their love work in modern day Texas? This moving story of romance and human connection creates the sort of characters who will stay with you long after you finish reading.
---
My favorite author-in-the-wild moment: Alyssa Cole and Alisha Rai on their trip up the Pacific Coast. There was a crown and a castle; it was beautiful.
My favorite twitter thread: Suleikha. When you start a #notRWA2017 thread with "Diversity isn't a trend. Or a buzzword. If you think you must color in or gay up your book to sell it, you're already dead wrong", you know it's going to be pretty amazing.
My favorite twitter exchange (and a thing I still want): KJ Charles is my favorite.
My favorite bit of romance news: Okay, so I know I'm supposed to be hearkening back, but Suzanne posted an interview with Cat Sebastian last week that includes a cover reveal for her next book and it is :all the emojis: And one of the characters is enby and it's just. I can't words.
My favorite romance bookstore: I mean, they're the only one, so….but don't forget The Ripped Bodice has a Patreon!
My favorite romance accessory: It's a tie between the "Disrupt the Patriarchy, Read Romance" mug and the "Slayer of Words" t-shirt. It was actually the notebook, but that's not available anymore :(.
My favorite acceptance speech: Queen Bev, of course!
My favorite romance-related Book Riot post: Once again, it's a tie:
My favorite late AF discovery: Rachel's spreadsheet. I don't know how I neglected to have a look at the beginning of the year, but I am totally going to use it next year!
And now, actual book stuff!
My favorite standalone: Love by the Books by Te Russ. Here's what I said way back in March: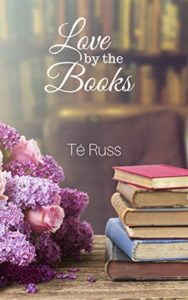 I cannot stop talking about Love By the Books by Te Russ. I came across it looking for books about librarians, and I just knew I had to read it immediately. First we have Carmen Jones, a literary agent who has just scored an amazing deal for a first-time author. And on her first visit to By the Books to inform said writer, she meets Sebastian, who turns out to own the joint. The two have an immediate connection, and their courtship is full of dorky, bookish, adorable goodness. I was swooning straight through to the end. How good was this book? Not even a healthy smattering of typos could take away from my enduring love for these people. Of course, it's all about what you love; I totally decided that these two were my soulmates and that I was marrying them by the time I got to the end. But I guess I can share.
My favorite new series: The Loyal League, hands down. Remember when An Extraordinary Union came out? I was ecstatic: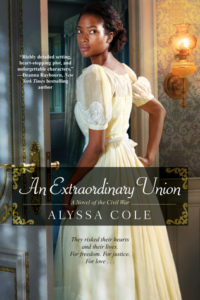 I have been bouncing with excitement for the chance to talk more about this book now that it will be out soon. If you haven't pre-ordered it yet, get on it! You'll want to devour it immediately, I promise. This book has gotten a lot of press in the romance universe, and for good reason: this is a Civil War romance that defies the boundaries of Civil War romance, while still grasping upon the realities of history and giving us an untold story. With kissing.
And spies.
SPIES.
This is a CIVIL WAR SPY ROMANCE.
The heroine, Elle, has an eidetic memory, which makes her the perfect candidate to go deep, deep, undercover, posing as an enslaved woman in the household of a Confederate senator. She's working with Malcolm, one of Pinkerton's men, to discover any plans around a plot to sideline the Union in Richmond. The pair share a striking, soulful chemistry, and their banter is fantastic. If you've read any Alyssa Cole, you know what I'm talking about. If not, this will make an extraordinary introduction to her talents.
See what I did there? Heh.
My favorite new-to-me series: This one was hard, but I have to go with my gut on this one: The Five Boroughs series by Santino Hassell. I happened to read Concourse first: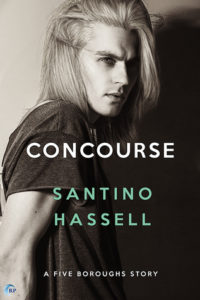 This was my first Santino Hassell book, but I went ahead and got Sutphin Boulevard when I finished; I need to start this series from the beginning. And I need to get more of Santino's writing in my brain. In Concourse, we meet Val and Ash, an Odd Couple if we ever saw one: Val is an amateur boxer who does odd jobs for his super, while Ash is a glam Kardiashanesque socialite with the Instagram following to show for it. Valdrin's parents moved to The Bronx from Albania, and his mom was Ashton's nanny, meaning the two pretty much grew up together. Val will do anything for Ash, as we discover very early on.
It didn't take long for me to fall in love with these two; almost immediately, you can tell there's something special about their relationship, even if they both drive you mad with frustration. If you're looking for a friends-to-lovers story with complex characters who have even complexer issues, this is the book for you. Also, you can hit two Read Harder Challenge categories with this one.
But I have been an extreme follower of Santino Hassell ever since.
My favorite one-off character: Cassandra Harwood from Snowspelled. She's that character you're always looking for: smart, self-aware enough to know what she wants even if it might be a misguided desire. Clever and caring, who looks out for other people and tries to help ensure their happiness even if it means setting her own goals aside for awhile. Did I mention whip smart? Like clever enough to out-logic a High Elf? And you know those buzzards can do some asshole logic and call it truth.
My favorite repeat character: Oh hey look, it's Raymond Rodriguez (who also happens to be Santino's favorite character, too)! In a move that's not very common in romance, our favorite super-private author couldn't make his brain shut up about Raymond and David after Sunset Park, and Interborough was born. As he moved on to Chris's story in Third Rail and Citywide, Ray continued to pop up as Chris's BFF.
My favorite family: It's another tie:
The Winstons (Beard in Mind, etc.). This collection of lovable bearded weirdos (beardos?) and the women with whom they have, so far, fallen in love brought the perfect amount of levity to my reading this year. Penny Reid knows how to make a character just the right amount of ridiculous while still allowing them to be well-rounded and lovable. Also, Cletus was my second-favorite repeat character, followed very closely by Sienna Diaz, everyone's favorite plus-sized comedian/writer.
The Bautistas. When you meet Drew Bautista in North To You, you probably won't expect to fall in love with his family almost as much as you fall in love with him. But you will. You might love their dynamic even more than you do the love story and shenanigans that happen between him and Camille, his food rival and love interest. They have tough times, but they love each other so much, and that comes through pretty much to perfection. As you continue through the Journey to the Heart universe, that family expands and we get to see more of it, and you're just there for it.
My favorite surprise: Courtney Milan's Trade Me is definitely one of my favorite books of the year. It was damn near perfect as a book, with a great premise and some hilarious happenings. The surprise isn't that I loved it. The surprise was Adam Fucking Reynolds, the foulmouthed asshole with a heart of…well, not gold but definitely not lead… that is our hero Blake's father. Courtney has written a couple shorts featuring him, including one that jumps into the Sinisterverse. He's also apparently getting his own book in the Cyclone series!
My favorite WTF-to-satisfied novel: You know that book you read the description of and you're like "that author is seriously Doing Too Much but I need to know how this is going to go?" For me that was Highland Dragon Warrior. Historical Fantasy Romance with an alchemist heroine and the dragon-shifter who will be her hero? My first thought was "this will be either completely terrible or completely amazing." And to my delight, it was the latter, and I am now a devoted Isabel Cooper fan for life. My review: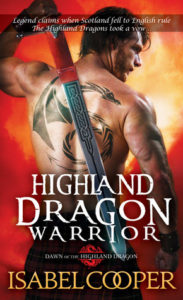 I was in a historical fantasy mood (and someone recommended a really interesting sounding one) so I started my weekend with Highland Dragon Warrior, the first in a very promising prequel series to Isabel Cooper's Highland Dragon series. Instead of the 19th-century setting of the first series, Highland Dragon Warrior is set in the time of Braveheart, when Scotland is fighting for its own sovereignty. The titular dragon warrior, Cathal, is home from foreign wars, looking over the family keep, when Sophia, a Jewish scholar and alchemist (alchemist!) arrives with one request: a few of his scales. He offers to grant them, if she helps him out with a mystical problem he's having. His friend is dissolving. Dissolving. Sophia takes up the challenge, and her awesomeness and fortitude are what will keep you turning pages until you reach the very end (at which point you will be grasping for Highland Dragon Rebel, which takes place twenty years later, features a badass dragon warrior, and unfortunately has none of Cathal or Sophia except in passing mention).
But you know what my favoritest of favorite things this year has been?
YOU. I love you all for joining me on this journey that was the first year of Kissing Books! You've reached out on twitter and instagram, and sent me amazing emails that made me laugh, cry, and find even more books to read. You are my favorite thing about this.
(And I've got some news for you! Shhhh. Come closer. Guess what. Kissing Books is moving to WEEKLY next year, after I take a quick break next week. It's a New Year's Miracle! I'm super excited.) Is there anything you'd like to see change next year? Something you'd like to see more of? As usual, catch me on Twitter @jessisreading or Instagram @jess_is_reading, or send me an email at jessica@riotnewmedia.com if you've got feedback or just want to say hi!
See you in 2018!