This installment of Today in Books is sponsored by A Duke in Shining Armor by Loretta Chase: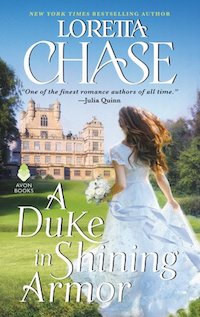 ---
The New York Times Selects Its 10 Best Books of the Year
This list is probably the most prestigious media-selected book list of the year, and while I haven't read all of them, the ones I have read are truly wonderful (Exit West, Priestdaddy, Sing, Unburied, Sing). If you are into literary fiction and non-fiction, then you could do worse than read these chosen 10.
Jenny Slate Writing Book of Feminist Fables
Actress, comedian, and director Jenny Slate signed a deal with Little, Brown for a collection of feminist fables to be published in 2019. The book doesn't have a title yet, but the description sounds fascinating: "The witty and at times fantastical book imagines the perspectives of other preyed-upon creatures (a deer venturing into a meadow; a globe of fruit plucked from its branch), invites us into the haunted house of her childhood, and celebrates the power of being vulnerable and open, even in the face of rejection and fear." 
4-Year-Old With Inoperable Brain Tumor Receives Hundreds of Books
When her parents found out that she had an inoperable brain tumor, they tried to think of giving her something to make her happy and to sustain her during the trying days of treatment and surgery ahead. So they asked their friends and family to make it known that Lena loves books and that building out her personal library would go a long way. The result? By word of mouth, and word of internet, people from all over heard Len'a story and she has so far received hundreds of boxes of books. Good for you Lena, and best of luck.