Fantastic Beasts Director Defends Johnny Depp
David Yates, The Crimes of Grindelwald director, made a statement in defense of keeping Johnny Depp on the cast. Fans have been criticizing the studio producing the Fantastic Beasts sequel, and J.K. Rowling, for the decision to keep Johnny Depp on the cast in light of allegations of domestic abuse made by his ex-wife Amber Heard. "With Johnny, it seems to me there was one person who took a pop at him and claimed something," said Yates. ScreenCrush noted the problematic nature of Yates' defense. Rowling has yet to comment on the controversial casting.
Cassandra Clare To Write Adult Fantasy Series
The best-selling author of the YA series The Mortal Instruments announced that she will write a new adult fantasy series. A publication date for the first book in the series, Sword Catcher, hasn't been released, but the book is currently in progress. Featuring criminals, princes, magicians, and warriors, this will be her first high fantasy work.
Gender Disparity In Book Awards
VITA addressed gender disparity in book awards, pulling up a 2015 study looking at 15 years worth of data from top literary prizes. The study showed that fiction written by women about women won few prizes, fiction by women about men performed only slightly better in literary awards, and books by men about men far exceeded both in wins. The author of the piece conducted independent research and found that "women still have a long way to go for equality within literary prize culture."
---
Today in Books is sponsored by Simon & Schuster, publisher of The Impossible Fortress by Jason Rekulak.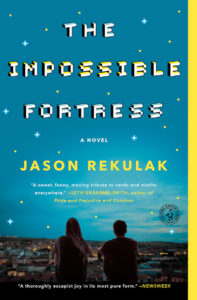 It's May 1987. Fourteen-year-old Billy Marvin of Wetbridge, New Jersey, is a nerd, but a decidedly happy nerd. Afternoons are spent with his buddies, watching copious amounts of television, gorging on Pop-Tarts, debating who would win in a brawl (Rocky Balboa or Freddy Krueger? Bruce Springsteen or Billy Joel? Magnum P.I. or T.J. Hooker?), and programming video games on his Commodore 64 late into the night. Then Playboy magazine publishes photos of their idol, Wheel of Fortune hostess Vanna White, Billy meets expert computer programmer Mary Zelinsky, and everything changes.