The Real-Life Harry Potter Study Abroad
The dream of every Potterhead has seemingly come true. A real-life Harry Potter themed study program exists. Twenty students at DePaul University are participating in a two-week Potter themed study abroad. The program will be held in England and Scotland and will focus in some part on literature. It'll also include trips to visit Platform 9 3/4 at King's Cross Station, the "Harry Potter Experience" at Warner Bros. Studio, Edinburgh Castle, and Greyfriar's Cemetery. Read on for an interview with one of the program's creators. (Next, let's build a real Hogwarts.)
2017 World Fantasy Award Winners
The 2017 World Fantasy Award winners have been announced! And the award for Best Novel went to The Sudden Appearance of Hope by Claire North. Best Long Fiction went to The Dream-Quest of Vellitt Boe by Kij Johnson, and "Das Steingeschöpf" by G.V. Anderson won Best Short Fiction. I'm pretty surprised Victor LaValle and N.K. Jemisin didn't get a win, but there you go. Check out the full list of winners.
Tom Hanks Being So Very Tom Hanks
One unplanned event that took place at last week's Texas Book Festival was Tom Hanks' assist with a marriage proposal. Hanks was in attendance to promote his new book Uncommon Type: Some Stories. As the story goes, "Hanks … took out a piece of paper and announced that there was a man in the crowd, Ryan McFarling, who had a question for a woman in the crowd, Nikki Young." McFarling popped the question and got a yes. Adorable story is adorable.
Don't forget, we're giving away $500 to the bookstore of your choice! Click here to enter.
---
Thank you to The Big Lie by Julie Mayhew for sponsoring today's newsletter.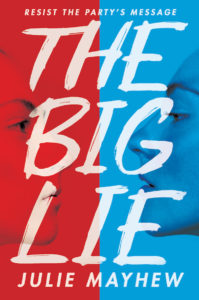 Nazi England, 2014. Jessika Keller is a good girl — a champion ice skater, model student of the Bund Deutscher Mädel, and dutiful daughter of the Greater German Reich. Her best friend, Clementine, is not so submissive. Passionately different, Clem is outspoken, dangerous, and radical. And the regime has noticed. Jess cannot keep both her perfect life and her dearest friend, her first love. But which can she live without? Haunting, intricate, and unforgettable, The Big Lie unflinchingly interrogates perceptions of revolution, feminism, sexuality, and protest. Back matter includes historical notes from the author discussing her reasons for writing an "alt-history" story and the power of speculative fiction.