Elizabeth Banks To Direct The Paper Bag Princess
Fans of The Paper Bag Princess, you're getting a movie. Elizabeth Banks will helm a film adaptation of the classic children's story about a princess who rescues her Prince Charming. The book has sold more than 10 million copies. Suicide Squad's Margot Robbie is also attached to the project as a producer. Robbie may even star in the film, but that's so far unconfirmed. Added to the list of women steering the adaptation is Katie Silberman who will write the screenplay. Lots of anticipation for this one.
Audible Is Letting Romance Readers Skip To The Good Parts
The company is launching their new Audible Romance service, which will include special features such as being able to skip ahead to "the good parts." But the good parts aren't just the sex scenes. Recognizing that Romance readers have nuanced and varying interests, the "Take Me To The Good Part" feature lets them jump to pre-selected scenes, including First Meeting, Flirty Banter, Sexual Tension, and First Kiss. Another feature is a "Steaminess" score that lets subscribers filter books by their graphic content. Audible Romance is an all-you-can-read service, so some filtering will probably be necessary.
"To The Lady Who Mistook Me For The Help At The National Book Awards"
Not exactly news, but oh boy. Filipino author Patrick Rosal attended the National Book Awards and was mistaken for a waiter, as the title implies. So, he wrote about it and beautifully. No, it isn't news and that's the saddest thing about this piece. Give it a read.
Don't forget, we're giving away $500 to the bookstore of your choice! Click here to enter.
---
Thank you to Renegades by Marissa Meyer for sponsoring today's newsletter.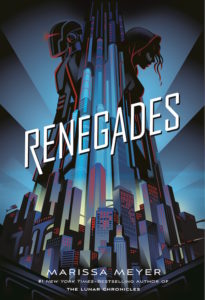 Secret Identities.
Extraordinary Powers.
She wants vengeance. He wants justice.
The Renegades are a syndicate of prodigies—humans with extraordinary abilities—who emerged from the ruins of a crumbled society and established peace and order where chaos reigned. As champions of justice, they remain a symbol of hope and courage to everyone . . . except the villains they once overthrew.
Nova has a reason to hate the Renegades, and she is on a mission for vengeance. As she gets closer to her target, she meets Adrian, a Renegade boy who believes in justice—and in Nova. But Nova's allegiance is to the villains who have the power to end them both.