Today's Riot Rundown is sponsored by All the Crooked Saints by Maggie Stiefvater.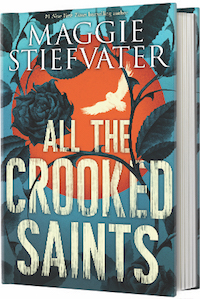 Here is a thing everyone wants: A miracle.
Here is a thing everyone fears: What it takes to get one.
In a landscape of dark saints, forbidden love, miracle-mad owls, and a sky full of watchful desert stars lives the Soria family. At the heart of this family are three cousins: Beatriz, who wants only to be free to examine her thoughts; Daniel, the Saint, who performs miracles for everyone but himself; and Joaquin, who spends his nights running a renegade radio station under the name Diablo Diablo.
They are all looking for a miracle. But with the Soria family, miracles are never quite what you expect.