Hello, book lovers! It's a beautiful day in the neighborhood, a beautiful day for things made from wood…why, I mean books, of course! (That's how Mr. Rogers sang it, right?) I am extremely excited about a couple sequels out today: Strange Lies by Maggie Thrash and Righteous by Joe Ide. There are also a bunch of other amazing titles out now! I have a few for you below and you can hear about several more great books on this week's episode of the All the Books! Rebecca and I talked about a few amazing books we loved, including A Line in the Dark, We're Going to Need More Wine, and The RBG Workout.
---
Sponsored by A Secret Sisterhood: The Literary Friendships of Jane Austen, Charlotte Brontë, George Eliot, and Virginia Woolf by Emily Midorikawa and Emma Sweeney
Through letters and diaries that have never before been published, A Secret Sisterhood resurrects the forgotten friendships between some of our best-loved female authors and their little-known literary collaborators. They were sometimes scandalous and volatile, sometimes supportive and inspiring, but always—until now—tantalizingly consigned to the shadows.
---
AND OHHHHH! Did you know we're giving away $500 to the bookstore of your choice? Click here to enter!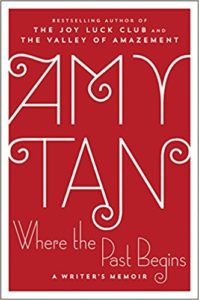 Where the Past Begins: A Writer's Memoir by Amy Tan
Love the novels of Amy Tan? Then you'll love to read about her childhood and influences. Love reading books where writers discuss their craft? Then you'll love learning about Tan's process and how she brings memory into her work. She's a wonderful writer, and it's a delight to have a work of nonfiction from her. It's a win for everyone, really.
Backlist bump: The Bonesetter's Daughter by Amy Tan
I Am Not Your Perfect Mexican Daughter by Erika L. Sánchez
Just recently shortlisted for the National Book Award for Young People's Literature, the wonderful novel is about family, loss, and expectations. After Julia's sister, Olga, dies in a tragic accident, Julia is expected to fill her shoes as the perfect daughter. But Julia wants to go to college after graduation, not stay home and care for her grieving mother, who likes to point out all the ways in which Julia is not Olga. sweet, sad, and sometimes laugh out loud funny, this story captures what it is to feel guilt and grief and still try to manage your own hopes and dreams.
Backlist bump: The Absolutely True Diary of a Part-Time Indian by Sherman Alexie
The Butchering Art: Joseph Lister's Quest to Transform the Grisly World of Victorian Medicine by Lindsey Fitzharris
When is it a better time to read a gruesome history of medicine than right before Halloween??? Fitzharris spares no details documenting Joseph Lister and his campaign to teach the medical profession that germs really existed. (Before Lister, doctors didn't wash their hands or their medical instruments all that often. Blergh.) It's also an illuminating look at a profession one looked upon with skepticism, a profession that often relied on graveyards to supply their knowledge…
Backlist bump: Cranioklepty: Grave Robbing and the Search for Genius by Colin Dickey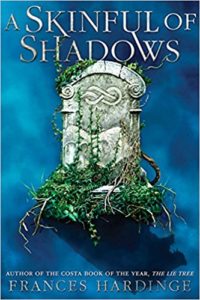 A Skinful of Shadows by Frances Hardinge
Really, I just want to type "OH EM GEE FRANCES HARDINGE IS THE BEST" over and over in this space, but I will also add that this is a wildly imaginative dark historical fantasy set during the English Civil War, about ghosts, inheritance, and a dead bear. Hardinge is the empress of delightfully weird and creepy books.
Backlist bump: The Lie Tree by Frances Hardinge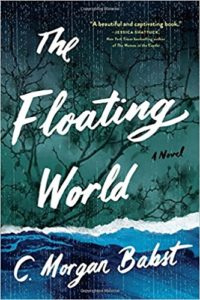 The Floating World by C. Morgan Babst
Set in New Orleans around Hurricane Katrina, this is a powerful story about family and resilience in the face of disaster and violence. Cora Boisdorés refuses to evacuate before the storm, leaving her father and stepmother to flee without her and putting a deep strain on their marriage. Cora herself is the victim of violence, and it is her sister, Del, returning to her hometown from NYC, who must solve the mystery of what happened to Cora and come to terms with the city's avoidable tragedies.
Backlist bump: Claire DeWitt and the City of the Dead by Sara Gran
That's it for me today – time to get back to reading! If you want to learn more about books new and old (and see lots of pictures of my cats, Millay and Steinbeck), or tell me about books you're reading, or books you think I should read (I HEART RECOMMENDATIONS!), you can find me on Twitter at MissLiberty, on Instagram at FranzenComesAlive, or Litsy under 'Liberty'!
Stay rad,
Liberty