And The 2017 National Book Awards Finalists Are…
The judges have whittled down the longlist and selected the 20 National Book Awards finalists. The finalists include American Street by Ibi Zoboi in the Young Adult category, Don't Call Us Dead by Danez Smith in Poetry, and Democracy in Chains: The Deep History of the Radical Right's Stealth Plan for America by Nancy MacLean in Nonfiction. Also, Annie Proulx, author of The Shipping News, will receive the Medal for Distinguished Contribution to American Letters, and Dick Robinson, president and CEO of Scholastic, will receive the Literarian Award for Outstanding Service to the American Literary Community. The rest of the winners will be announced on November 15.
La Borinqueña Steps In For Puerto Rico Relief Efforts
This evening, comic book creator Edgardo Miranda-Rodriguez is selling original artwork to benefit Puerto Rico. Miranda-Rodriguez is the creator of La Borinqueña, an Afro-Latina, environmentally powered superhero. After hearing about the devastation left by Hurricane Maria, unable to reach his friends and family in Puerto Rico, and inspired by relief efforts by individuals, organizations, and public figures across the nation, he decided to sell La Borinqueña artwork to benefit the U.S. territory; more comic book industry artists joined in to donate. All proceeds from the event, "Arte de La Borinqueña/Fundraiser for Puerto Rico," will go to La Corporación Piñones Se Integra.
Hemingway's Earliest Work of Fiction
It turns out Hemingway has been writing fiction since he was at least 10 years old. Scholars found what at first appeared to be a travelogue (of course) by 10-year-old Ernest, but it turned out to be a complete work of fiction. The notebook, found wrapped in a freezer bag in an ammunition can, recounted a trip through Ireland and Scotland, complete with diary entries and letters sent to his parents. Except Hemingway didn't travel to Europe until much later in life. Hemingway scholar Sandra Spanier described it as "an intelligent piece of work." The kid apparently did his homework.
---
Thank you to Provenance by Ann Leckie for sponsoring today's newsletter.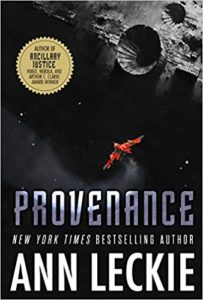 Following her record-breaking debut, award winner Ann Leckie, returns with a new novel of power, theft, privilege and birthright.
A power-driven young woman has one chance to secure the status she craves and regain priceless lost artifacts prized by her people. She must free their thief from a prison planet from which no one has ever returned.
Ingray and her charge return to her home and find their planet in political turmoil, at the heart of an escalating interstellar conflict. They must make a new plan to salvage her future, her family, and her world, before they are lost to her for good.