The Man Booker Prize Shortlist Announcement
Among the titles to make it on the shortlist are Exit West by Mohsin Hamid, Lincoln in the Bardo by George Saunders, and History of Wolves by Emily Fridlund. According to the Guardian piece announcing the winners, judges were questioned about the Americanization of the UK award. Half of the authors selected for the shortlist are from the US. I was sure we'd see Arundhati Roy listed, but there you go.
Aaand We've Got The National Book Awards Longlist For Poetry
As mentioned in yesterday's newsletter, the National Book Awards is releasing their longlist in pieces. Today they released the longlist for Poetry and, what with the proliferation of Instagram poets, I wonder if a lot more readers will pay attention to the list this year, compared to recent years. You won't find Rupi Kaur here, but Don't Call Us Dead by Danez Smith made the list, as did three debut collections, including When I Grow Up I Want to Be a List of Further Possibilities by Chen Chen.
Solving The Mystery of My Immortal
I find this story fascinating, even though I was only recently initiated into the mysteries of My Immortal. We are talking about the tale dubbed the worst fanfic ever and its mysterious writer. Vox wrote an in-depth piece about this fanfic phenomenon and the work's author, Rose Christo, who reemerged and revealed her true identity after about 10 years of silence. You can read all about the legend of My Immortal, Christo's upcoming memoir, and how it's all connected to that other what-the-what story about Lani Sarem of Handbook for Mortals and New York Times best-seller list infamy.
---
Sponsored by Finding Grace, the chilling new drama from Warren Adler that gets to the heart of brainwashing and its power to corrupt and control.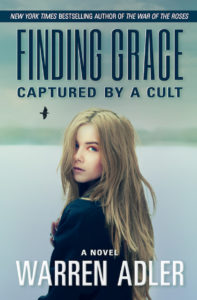 When their twenty-three-year-old daughter Grace goes missing, divorcees Harry and Paulie are forced to leave behind their newly constructed lives to track her down on a sunny farm in California. Seemingly unharmed, the two soon learn that she is actually in the clutches of a notorious cult. Under the spell of mind control, she denies Harry and Paulie as her family, leaving them to search for answers in the most desperate of places. Harry and Paulie race to bring Grace back home – but will she ever be able to return? How do you help someone who doesn't know they're lost?
Save