The National Book Awards Longlist Is Here…In Parts
It's awards season and if you're the type of reader who enjoys keeping up with the lists, you'll have plenty of books to add to your TBR now that the National Book Awards longlist is being announced. Caveat: the National Book Foundation will be announcing one category from its longlist each day this week. First up is Young People's Literature with titles including The Hate U Give by Angie Thomas, I Am Not Your Perfect Mexican Daughter by Erika L. Sánchez, and more. Check it out!
Kirkus' New Diversity In Children's Books Initiative
Kirkus announced a new initiative aimed at confronting the dearth of diversity in children's books. Kirkus Collections will work to help librarians find books by and about marginalized people. Because standard subject headings aren't always helpful in locating diverse books, this new tool features curated lists with headers like "Black & Disabled," "Latinx Read-Alouds," and "LGBTQIAP Love Stories." Through positive reviews, the use of metadata, and filters, librarians will be able to browse and search for vetted books for their diverse patrons. Very interesting!
All The Books Hillary Clinton Name Drops In Her Memoir
What Happened, Hillary Clinton's memoir about her presidential campaign, came out this week and the buzz is real. TIME has already published a list of all the books she mentions in the memoir. They include some classics we've been hearing a lot about recently, like George Orwell's 1984 and Margaret Atwood's The Handmaid's Tale, also Elena Ferrante's Neapolitan novels, and poetry by Maya Angelou. If you're curious, you can take a look at the full list, or read the book and break up the sorrow with little moments of discovery.
---
Thanks to The Summer That Made Us by Robyn Carr for sponsoring today's newsletter.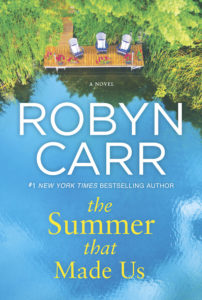 Robyn Carr has crafted a beautifully woven story about the complexities of family dynamics and the value of strong female relationships.
For the Hempsteads summers were idyllic at the family house on Lake Waseka. The lake was a magical place, a haven where they were happy and carefree. Until the summer that changed everything.
After an accidental drowning turned the lake house into a site of tragedy and grief, it was closed up. But one woman is determined to draw her family together again, and the only way that can happen is to return to the lake and face the truth.