Happy August! How's your reading life!
Happenings in Romancelandia
So much has happened since our last talk. The RWA conference concluded, the RITAs were announced, and Beverly Jenkins, Slayer of Words, made us all bawl on our computers if we were relegated to watching the live stream of her Lifetime Achievement acceptance speech from home.
---
Sponsored by Kissing Max Holden by Katy Upperman
After his father's stroke, Max Holden isn't himself. As his longtime friend, Jillian Eldridge only wants to help, but she doesn't know how. When Max climbs through her window one night, Jill knows she shouldn't let him kiss her. But she can't resist, and when they're caught in the act by her dad, Jill swears it'll never happen again. Because kissing Max Holden is a terrible idea. . . . But not kissing Max is easier said than done.
Will Jill follow her heart, and allow their friendship to blossom into something more, or will she listen to her head and stop kissing Max Holden once and for all?
---
Also, Andrew Grey got the Centennial award for publishing one hundred novels. He's the first m/m and also the first male author to have received it. How awesome is that! (Have you read his work? I'll admit I haven't yet, but man, I've got some reading to do!)
One thing we got as RWA-left-behinders was constant access to #notRWA. There were some awesome threads and conversations happening on twitter. These included:
For the complete list of #notRWA threads.conversations, check out this blog post by the fabulous Olivia Dade.
And for a little bit of the fun side of Twitter, this exchange leaves us…wanting. Wanting all the things.
Have you seen the cover reveal for Alyssa Cole's A Princess in Theory? I can't stop looking at it. Wanna know something else? You can buy that dress. AND IT HAS POCKETS.
Speaking of cover reveals…Sanctuary is coming, and man. Drool. Droooooooool.
Over on Book Riot
Kate included an "ugly cry-o-meter" in her list of favorite friends-to-lovers romance.
Read about Susan Mallery's thoughts on small town settings and more.
Do you like Jane Austen retellings? Read about a new Persuasion retelling.
How about some book recs?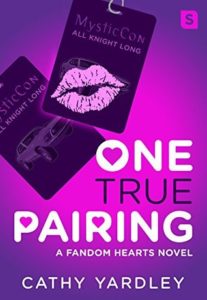 One True Pairing
Cathy Yardley
You know what kinds of books I love? Books featuring super dorky characters. Books where one of the protagonists is a famous person and the other is not. Books that take place around fan conventions. Books where the connection is fast and intense, but still believable. You know what One True Pairing is? ALL OF THESE. While it's the second book in Yardley's Fandom Hearts series, this can still be read as a standalone (and man, I still haven't read Level Up). Hailey and Jake are one of my favorite couples of recent recollection. Jake is a sweetheart who just loves his stupid Supernatural-reminiscent cable fantasy show and wants to be a part of it, but he needs something to keep him interesting to the public and the producers. Good thing Hailey is there offering to be his pretend-girlfriend, and their chemistry is already off-the-charts hot. Hailey comes equipped with some of the greatest friends and family around, which makes this adorable read even better.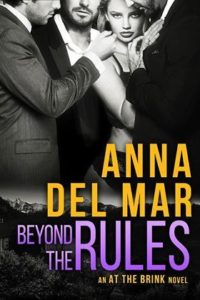 Beyond the Rules
Anna Del Mar
(August 14)
I finally stopped ignoring the call of Opal Carew's ridiculously punny titles and read Drilled the other day, which was fun in its own way, even though occasionally it felt like it was originally written as a two-person relationship and then Carew decided to split her billionaire into two. After that few hours of fun, I was still in poly mode, and decided to try an author I hadn't read before.
Enter three ex-Navy SEALs and a hacker. The three military men, Zar, Tanner, and Aiden, live in a gorgeous, secluded home in the wilds of Montana, and Nina has just crashed her plane trying to escape some baddies. She's pretty banged up, and the three nurse her back to health, all the while agreeing that she might be the one they've been waiting for. They made a pact while still in the military, and sharing every aspect of their lives is the central part of that pact. And well, it looks like Nina might be the one they could all fall for. Her commitment issues might have something to say about that. This book is long, but characters are well developed, and relationships are as well. I tend not to connect as well with polyamorous relationships in which everyone involved isn't one big puppy pile of love, but the three men have a different kind of relationship, and I could appreciate that (and they're not brothers, if that's one of your squicks).
(I'd also like to include the fact that as I started reading this, my husband and I started rewatching The Last Ship and the Zar in my head is a yummy combination of Eric Dane and Adam Baldwin. The others I had to create on my own.)
Currently reading: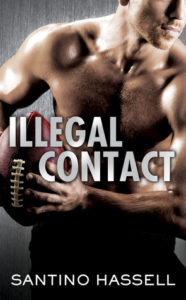 Illegal Contact
Santino Hassell
(August 15)
I'm not very far into this one, but so far, it's got pure Hassell quality going for it. So far, it's got the same feel as the Five Boroughs books as far as set in real life. But gosh, I hope it's not going to be as real. (Legit: I was sobbing in the middle of Interborough the other day. Sobbing.) Even a book that starts with a star athlete in an ankle bracelet can be fun, right? Or at least a little light?
We'll see.
And for some recent and upcoming releases:
Within a Captain's Soul, Lisa A. Olech
The Scandal of it All, Sophie Jordan
Two Dukes and a Lady, Lorna James (8/14)
Unexpected, Jenny Frame (8/15)
King of Code, CD Reiss (8/21)
The Duchess Deal, Tessa Dare (8/22)
Okay, that's it for me! Happy reading! (I know I'll be.) In the meantime, catch me on Twitter @jessisreading or Instagram @jess_is_reading, or send me an email at jessica@riotnewmedia.com if you've got feedback or just want to say hi!