It's Thursday, folks, and all the things are happening.
Before we go any further, I have a huge correction to make: in the last Kissing Books, I attributed the 8 Reasons People Mock Romance post to Sarah Davis. It was actually written by Sarah Nicolas. Sorry Sarah!
---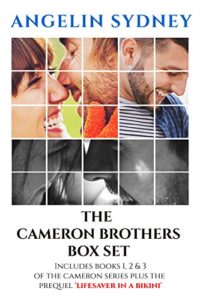 Sponsored by The Cameron Brothers, a binge-worthy series by Angelin Sydney.
The Cameron Brothers Box Set features four explosive, action-packed romances that are binge-worthy.
Return to Cameron Country, Cameron of the Skies and Cameron of the Seas and the series prequel, Lifesaver in a Bikini all share one central theme: "Love makes us throw caution to the wind."
---
Okay, back to happenings:
The annual conference of the Romance Writers of America (aka RWA) is happening RIGHT NOW, and soon we're gonna get to the RITAs. (And depending on what time of day you're reading this, they might be happening! They might have happened already?)
Have you found yourself itching to read some werewolf sex?
Definitely read Kay's twitter thread. There are many others, but Kay gets the essence of the issue. 
On a more positive note, there's more adaptation news!
The This Man series and The Protector by Jodi Ellen Malpas have been opted by PassionFlix, whose production crew is currently filming Aftershock/Afterburn.
Have you seen the trailer for the film adaptation of Heidi McLaughlin's second-chance romance Forever My Girl? It's been out for awhile, but I missed it the first time around. Have I missed any others?
Have you had the chance to check out #RomBkLove on Twitter? It's a great hashtag to troll when you are in need of a TBR explosion. 
Did you catch the Jane Austen Day celebration on Book Riot last week? There were a lot of good articles, including a great list of retellings by authors of color.
Also, Wallace's video this week is about two more romances she picked up at The Ripped Bodice.
And now, book recs!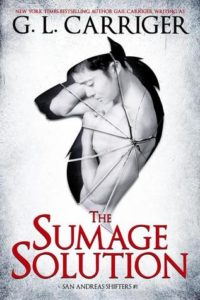 Speaking of werewolf sex, GL Carriger's The Sumage Solution came out last week and I finally got around to reading it! This book, the first in Gail Carriger's new m/m romance series (and potentially m/nb in the future?) is about Biff, a werewolf, and Max, a sumage. They live in a modern-day San Francisco Bay Area in which supernatural beings are a part of regular life, down to having to list their supernaturality in a rental application. Biff, the Beta of a newfangled pack who has moved to the North Bay to start afresh, is the one who is sent to the supernatural DMV to register their new pack. Max is the civic official who gives them the go-ahead. Max is wary of a werewolf pack invading the Bay Area, until Biff provides plenty evidence that they are not your stereotypical pack. By flirting with him. Things move on from there, complete with Big Misunderstandings and Daddy Issues galore.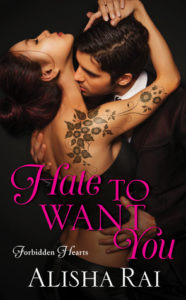 It's here, it's here! Hate to Want You is FINALLY out! I have been holding off on reading and reccing this book, mostly because I knew it would be best for people to be able to buy it right away once they saw my exclamations on how good it is. And it's. So. Good. Nicholas and Livvy were once childhood sweethearts, until a tragedy tore them apart, except for one day a year. Now, Livvy's back in their hometown, and elements from without and within are set to destroy any relationship they might develop before it has a chance. Including neither of them having the ability to communicate with each other. Get ready to have your heart wrenched out and then lovingly put back together.
Looking for a new series? Start with Suleikha Snyder's Spice and Smoke, the first in the Bollywood Confidential trilogy. Set in the sprawling, dramatic universe of Bollywood film, a motley crew of beautiful, talented people play bedroom games and mind games until everyone including the reader is a confused mess, in the best way. The first one gives you two stories for the price of one; each could have used a little more, but you won't feel like you've lost anything, promise.
Finally, let's call this segment…YMMV, or Your Mileage May Vary.
I don't usually talk about books that I'm not sure I want to recommend, but I need to talk about this trainwreck of a book. Kresley Cole's The Professional is the first in the Game Makers series, and is about Natalie, a young woman from Nebraska who discovers her biological father is a member of the Russian Bratva. Sevastian, her hot but off-putting bodyguard, has some control issues, and can't seem to keep himself together around Natalie, even as they fly in the dead of night to Russia under threat of one of her father's enemies. It all gets wilder from there; when I say trainwreck, I mean it: there is a terrible, terrible thing happening that you cannot turn away from for fear of missing something even worse occurring. Rioter Amanda Diehl told me to "embrace the crazy" when I asked Book Riot folks about it several months ago. And really, that's the only way to make it through any part of this book that isn't boning. Which there is a great deal of, in varying levels of fire emoji. Have you read it? Email me or catch me on twitter with your thoughts.
Now, as usual, new and upcoming releases: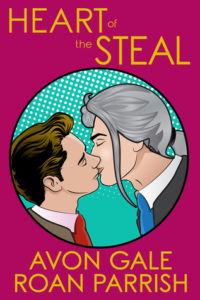 Heart of the Steal, Avon Gale and Roan Parrish
Rogue Desire (Anthology)
The Scandal of it All, Sophie Jordan
Wrecked, JB Salsbury
Cutie and the Beast EJ Russell
One True Pairing, Cathy Yardley
Drilled, Opal Carew
The Perfect Game, Elley Arden
Locked in Temptation, Brenda Jackson
By the time we meet again, the RITA awards will have been announced, and maybe Nora Roberts Lifetime Achievement Award recipient Beverly Jenkins will have reached her fundraising goal for the Deadly Sexy movie.
In the meantime, catch me on Twitter @jessisreading or Instagram @jess_is_reading, or send me an email at jessica@riotnewmedia.com if you've got feedback or just want to say hi!